things to do in nusa lembongan – Nusa Lembongan is truly a paradise-like. This is one of three Nusa islands that is located at the coast of Bali, along with Nusa Penida and Nusa Ceningan. You can take a boat to Nusa Lembongan from Sanur, Bali and the trip will only take about 30 minutes. Just like the two other Nusa islands, Nusa Lembongan is also a perfect place for a beach holiday. However, it doesn't mean that you can't do more than swimming and sunbathe on the island. This is because the small island still has many things to explore.
Find out 9 amazing things to do in Nusa Lembongan in this following page.
#1. Goa Gala-Gala
Goa Gala-Gala or Gala-Gala Underground House is one of the best tourist spots to visit if you want to see another side of Nusa Lembongan. This underground house consists of connected chambers that form a wonderful limestone labyrinth. Located deep underground, you can find sleeping quarters, a kitchen, and a living room in the Goa Gala-Gala. The cave was built in 1976 by Made Byasa. It was inspired by the epic story of Mahabarata. It tells the story of Pandawa princes that used the cave to hide since they were persecuted by Kauravas.
#2. Go On Mangrove Forest Trip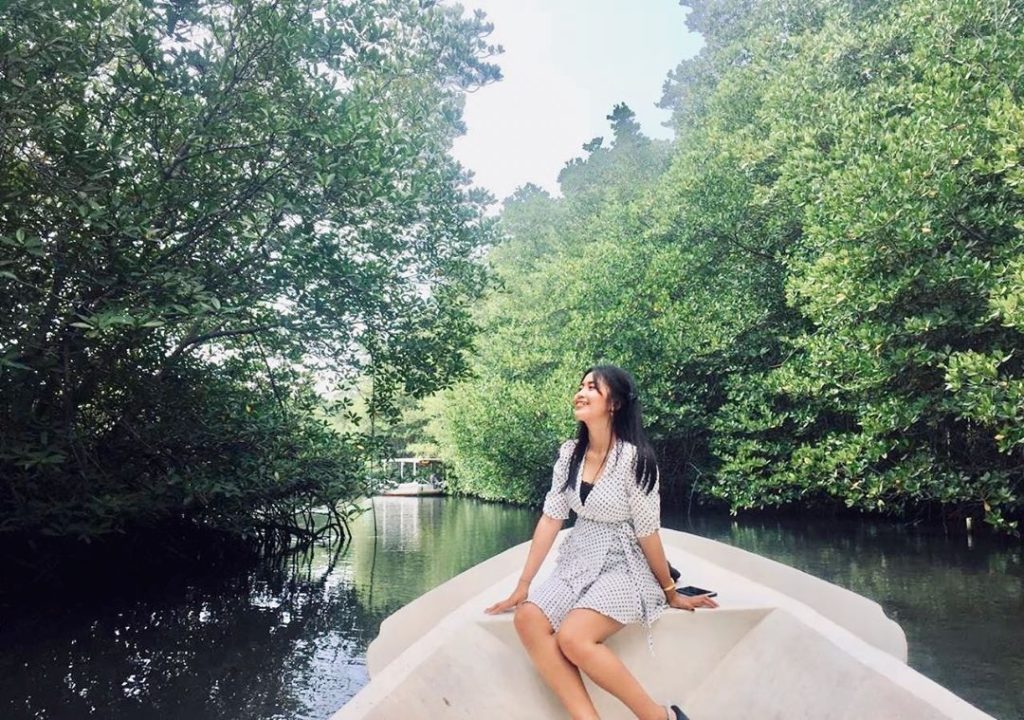 If you love exploring nature, you might need to consider to go on a mangrove trip. You can explore this relaxing and quiet mangrove forest by using a kayak, boat, gondola, or paddleboat. They can be rented for less than IDR 100,000 from local people. The forest is unique. If you can stay quiet during the trip, you might be lucky enough to see beautiful tropical birds there. However, you will be required to pay for an entry fee as much as IDR 30,000 to get to the Mangrove Forest.
#3. Bali Marine Walk
If you are thinking of what to do in Nusa Lembongan that will satisfy your hunger of marine life, this tourist destination can be one of the best options you can take. This Bali Marine Walk will bring you to 4 to 6 meters underwater to have interaction with amazing creatures live there. This tourist attraction is also a good alternative for you who can't dive but still want to enjoy marine life. There will be stunning colorful fish and corals you can find. You will be required to wear specially designed helmets completed with air supply. In this way, you can walk and remain submerged among the colorful fish.
#4. Angel's Billabong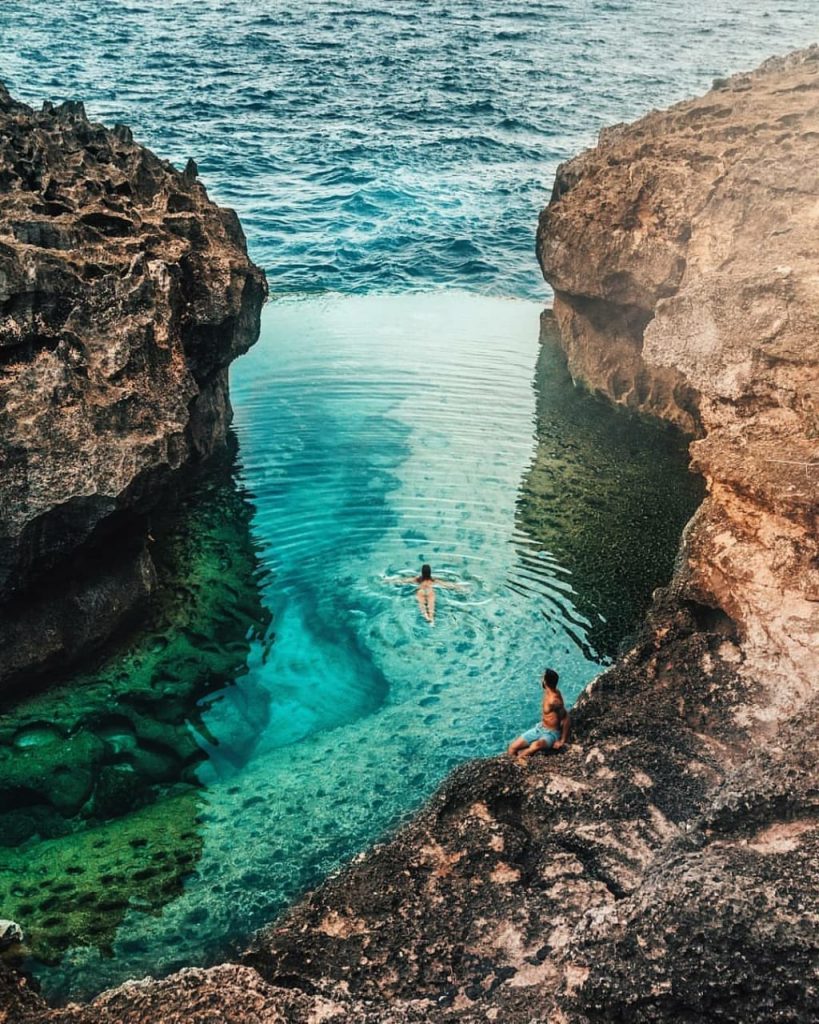 Having a vacation in Nusa Lembongan will not complete without visiting the beautiful beaches of the island. Angel's Billabong is one of the most popular beaches you can find in Nusa Penida. The beach comes with an amazing rock formation. It is located near Broken Beach, another favorite tourist destination found on the island. The main attraction of the Angel's Billabong is its pristine coastlines and gorgeous cliffs. You can also find a pathway which is completed with signposts. The small road will take you to a spectacular natural pool. During low tide, the pool will become a perfect swimming spot for you.
#5. Bali Underwater Scooter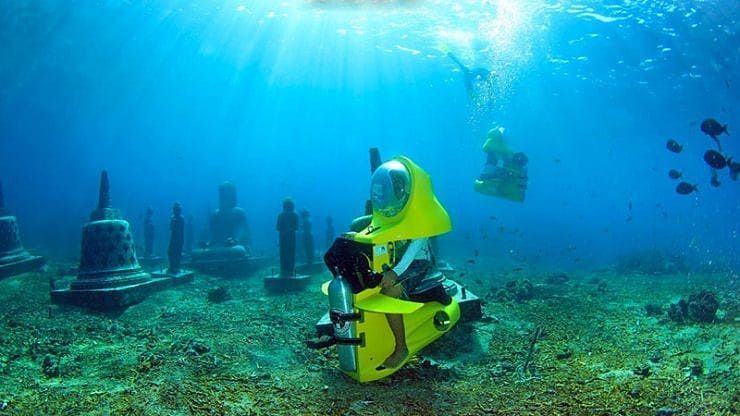 Bali Underwater Scooter is one of the best things to do in Nusa Lembongan. This is an anti-mainstream way that the tourists can do to explore an underwater garden. Instead of diving, swimming, or snorkeling, you will use a submersible scooter to interact with the creatures live in the underwater garden. If you are not sure how to operate the scooter, just don't worry. There will be professional drivers that will help and guide you when exploring exotic marine species and colorful coral garden.
#6. Manta Point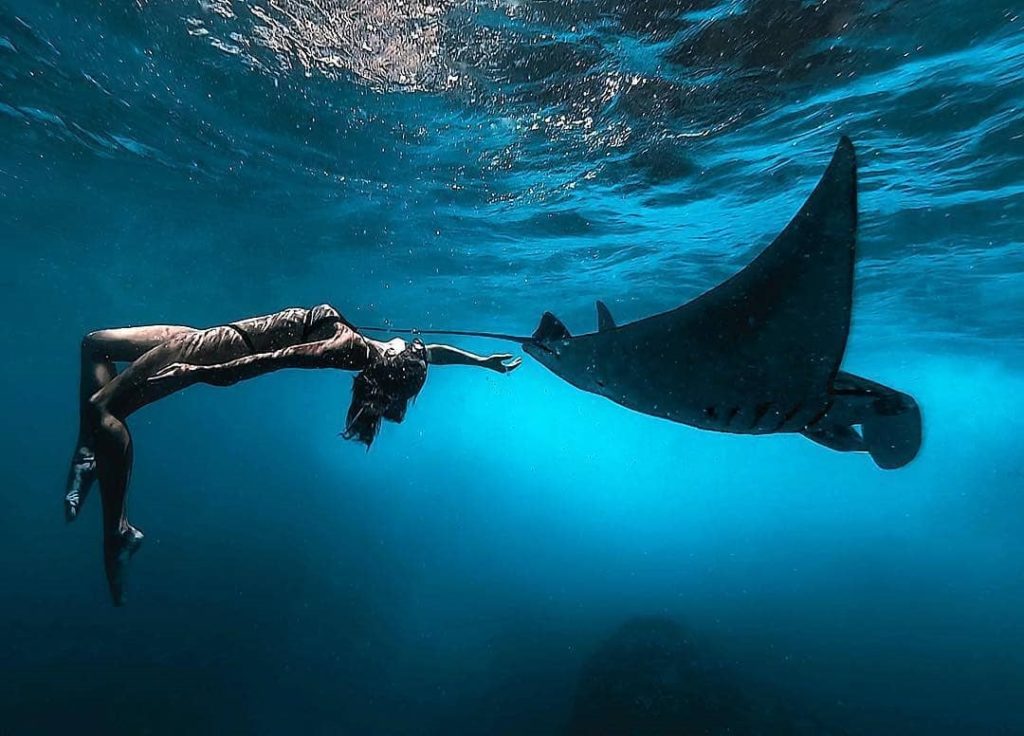 This is another spectacular tourist destination you can find on the island. This scuba diving Nusa Lembongan spot is very popular due to the manta rays that inhabit the dive resort. You can dive in the Manta Point all year round. It means that these graceful species can be seen on almost every dive. However, the best time to visit the resort is from August to October. During the months, you will be able to get excellent visibility up to 20 meters deep. Not only manta ray, but you can also spot nurse sharks and stingrays while diving in the resort.
#7. Nusa Lembongan Seaweed Farm
If you visit Nusa Lembongan, you will find a lot of seaweed farms throughout the island. This is not surprising since the seaweed farm is one of the main income sources of local people. The harvested seaweed will be used for Asian food and cosmetics industries. The seaweed farm now also becomes one of the most popular tourist attractions on the island. You will see the farmers dry up the harvested seaweed on the shore. You can even also try to harvest the seaweed by yourself.
#8. Yellow Bridge (the Bridge of Love)
The Yellow Bridge, or more popular as the Bridge of Love, is an iconic bridge in Nusa Lembongan. It is used to connect the island with Nusa Ceningan. Being located on the southwest coast of Nusa Lembongan, this suspension bridge has 140 meters long. It offers a panoramic view of the Indian Ocean. The bridge becomes one of the easiest ways that the tourists can take if they want to travel between the two Nusa islands. However, the Bridge of Love is only opened for motorcycles and pedestrians. So, make sure that you leave your car somewhere and then walk through the bridge to enjoy the scenic view of the Indian Ocean.
#9. Sandy Bay (Sunset Beach)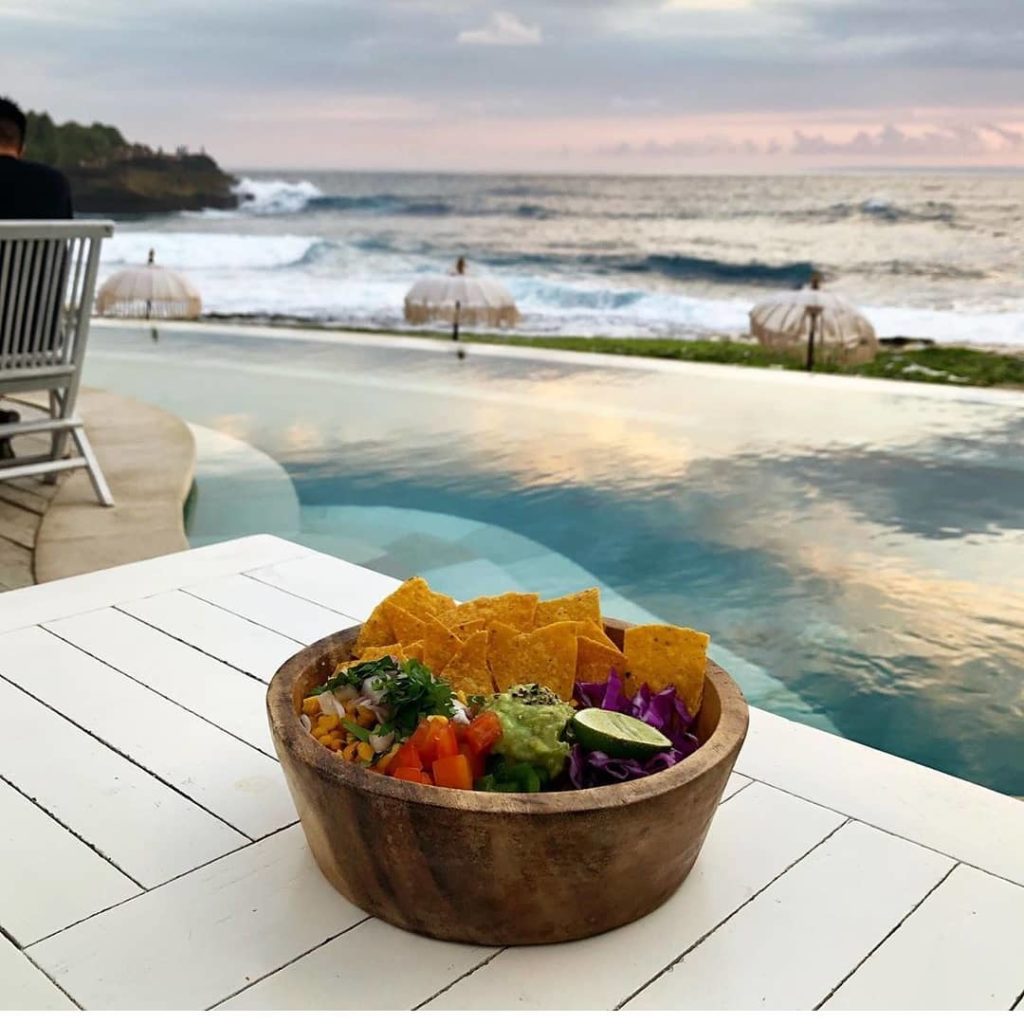 If you are looking for the best things to do in Nusa Lembongan, just don't skip this Sunset Beach from your list. Being located on the southwestern coast of the island, the beach can be found not far from the Devil's Tear. Being popular with another name, Sandy Beach, the tourist destination is truly a perfect place for relaxing and sunbathing under the palm shades. Additionally, there is also a club where you can get some refreshments after swimming. You can also join yacht tours or rent a private boat to explore the island.