About Labuan Bajo
Labuan Bajo Tour– There are a lot of beautiful destinations you can explore when you are visiting Indonesia. One of them is a beautiful island known as Labuan Bajo. Labuan Bajo is located in the Nusa Tenggara region. The exact area is in Flores. Previously, Labuan Bajo is only a small fishing island. This island becomes more popular due to its amazing scenery. Labuan Bajo Trip is one of the best place for vacation in indonesia
Travelers can explore some interesting destinations around the island. Some recommended destinations are including Padar Island, Kelo Island, Rinca Island, Gili Lawa Island, Kanawa Island, and many more. We will explain the detail of each of the destinations below. While exploring those beautiful islands, you can do and enjoy some great things. For example, you can go to Komodo Island and feel the challenging trek to see the biggest lizards known as Komodo Dragon.
Best Spot Place for instragamable
If you love to post cool photos on your Instagram account, you can bring your camera to capture the best objects and moments in Padar Island. Labuan Bajo Tour is a perfect destination for an active traveler who wants to do a variety of exciting outdoor activities. One of them is swimming at Manta Point. Moreover, you can also snorkel at Pink Beach. For those who love to do something challenging and increase adrenaline, try to take a speed boat tour. If you want to close your day happily just enjoy the sunset at Amelia Sea View.
Don't miss the fun part of nightlife there because there are also some great things to do. After enjoying the beautiful sunset, just go find a restaurant or cafe. Most of them are ready with delicious seafood menu. The fishes are fresh from the ocean. There are also some bars there and one of the popular bars in Labuan Bajo is Paradise Bar. Visitors can drink beer while enjoying the fantastic scenery of Labuan Bajo Bay. You can enjoy the food while enjoying the beach. You may do it on a specific island such as Kanawa Island. Indeed, you will get more than just great photos and videos for your Instagram or social media accounts. Each of the attractions and activities will make you want to come back to Labuan Bajo as soon as possible.  
Read also :     

4 Interesting Activities to do in Labuan Bajo      

4 Unpopular Islands around Labuan Bajo with Great Landscapes
Due to the types of attractions, treks, foods, and things to do, Labuan Bajo is a perfect destination for all ages travelers. It is a perfect place for a family who wants to spend a holiday or a solo traveler who want to enjoy nature closer.
Mansa Go is ready to serve and deliver you to enjoy Labuan Bajo. The expert guide knows the best place to visit on each of the destinations. As a result, you will get all the things you want and even something more than you are expected. Before visiting this place, let's check the detail of Labuan Bajo including the way to get there and some outstanding and unforgettable traveling destinations. When you know the detail, you will make sure that you have to go to Labuan Bajo for your next traveling plan.
How To Get to Labuan Bajo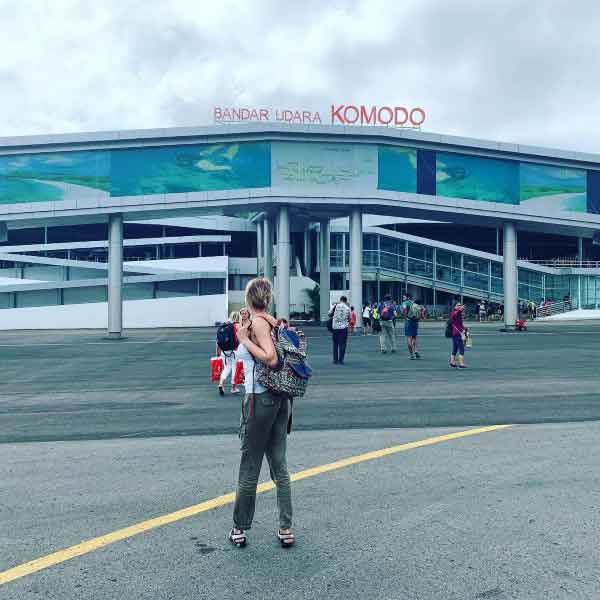 After learning a little bit about great things you can do in Labuan Bajo, you need to know the way to get to this island. The good news is that you can still find a variety of public transportations and it helps a lot to travel around on a big island like Flores. The public transports available in Flores are including bus, boat, ferry, and plane. For a much simpler option, you can hire a driver and let the driver guides you anywhere you want to go. There is also public transport known as ojek. Ojek is a motorcycle public transportation and you just rent it and let the driver guides you to the destination.
For foreign travelers, you can go to Labuan Bajo Tour by plane
It is easy to find a flight to Labuan Bajo such as Garuda, Wings, Sky Aviation, and Trans Nusa. The flight leads you to Labuan Bajo's airport. Later, you can go to the hotel or any destinations by taking ojek, bemo, or taxi. The cost depends on public transport you take.
Another public transport alternative is by bus. The problem is that the bus stations are a little bit far away from the main town. Moreover, travel around by bus is not as comfortable as travel around by taxi or any other public transport but you can use it if you like.
You can also go to Labuan Bajo by boat.
There are two boats you can choose which are Wilis and Tilongkabila. Both of the boats have a different route. The route of the Wilis boat is from Makassar, Bima, Labuan Bajo, Waingapu, Ende, Kupang, Marapokot, and Larantuka. The route of the Tilongkabila boat covers Benoa, Lembar, Bima, Labuan Bajo, Makassar, Bau Bau, Raha, Kendari, Kolonedale, Luwuk, Gorontalo, and Bitung. You can also take a ferry from Labuan Bajo to Sapi. You can take the express or slow ferry. Just make sure that you know the schedule of the boat so you don't miss the boat otherwise you have to wait for the next schedule.
For more comfortable and personal transport, you can rent a car along with its driver. By renting a car you can go anywhere you want. It might be a little bit expensive in which you have to spend around 600.000 to 700.000 rupiah to rent a car per day. The good news is that the cost is including the driver, vehicle, petrol, and the driver's meals and accommodation.
For a close destination, you may take ojek, bemo, or taxi. Ojek and bemo are the cheapest one whereas a taxi is the most comfortable one. If you want to do something a little bit challenging, you can also take a walk to reach a destination.
The best option to choice Labuan Bajo Tour is joining a travel agency such as Mansago because the agency will manage everything including your transportation. Later, you just need to focus on enjoying all the destinations and attractions for the most unforgettable holiday experience.
Best Spot Destination Labuan Bajo Tour
The fun part is discussing the destination you can visit while exploring Labuan Bajo Tour. Since there are a lot of interesting destinations you can visit, we will explain each of them on a list. The point is that Labuan Bajo has a complete destination whether for beach, nature, culinary, or nightlife lovers. By knowing the destination, you will know where to go based on your interest. The worth it places in Labuan Bajo Trip you have to visit are including Padar Island, Kelor Island, Rinca Island, Gili Lawa Island, and Kanawa Island. The main destination is Komodo Island. Let's check the detail below.
Padar Island
Padar Island is the first location you have to visit due to its extremely beautiful scenery. You might need to use your energy to go to the highest point of Padar Island. By the time you achieve the highest point, you will not regret your decision to go to this place. The first thing you will see from the location is the beauty of the entire beach at Labuan Bajo Island. The natural colors such as white, pink, and black become the best attraction that you can capture on your camera. This is the time for you to see how beautiful and greatness Labuan Bajo is. It seems that you have found a paradise here. The route to the highest point of Padar Island is also a wonderful experience. While enjoying the surrounding, you also have a chance to see Komodo dragons closely. Due to the beauty of its nature, you can capture the best objects or moments there. You can also use this location for selfies. Then, share the result on your Instagram or social media accounts. Indeed, the beauty of the scenery makes your friends want to know about it. Of course, you also want to come back to Padar Island as soon as possible after your first visit.
Kelor Island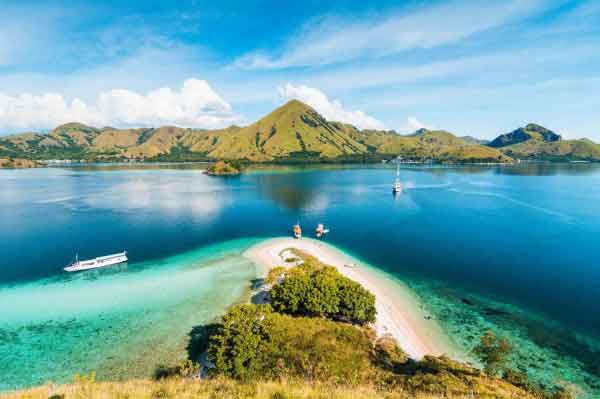 Kelor Island is another beautiful place in Labuan Bajo and all travelers must visit this place before leaving the island. This is the place where you can enjoy beautiful beaches, mountains, and a calm sea. You can also see the local villagers do their daily activities and learn something from them. For outdoor activity lovers, you can do some interesting activities including swimming, riding boats, and walking around the beach. Exploring the underwater is also the best activity so you can do snorkeling or diving to capture its beauty. The atmosphere is the best because it feels peaceful, especially for those who want to run away from their hectic schedule for a while. For those who love hiking, you have to prepare your stamina because there are hills you can explore. Just be ready because some of the hills are extreme. The location of Kelor Island is only 1 hour from Labuan Bajo and you can find a hotel to stay if you want to explore this island longer. You can easily find a place to stay on this island. The hotel is good enough to recharge your stamina after a long journey to Labuan Bajo. When you are ready, you can start to explore Kelor Island and get some great things there.
Rinca Island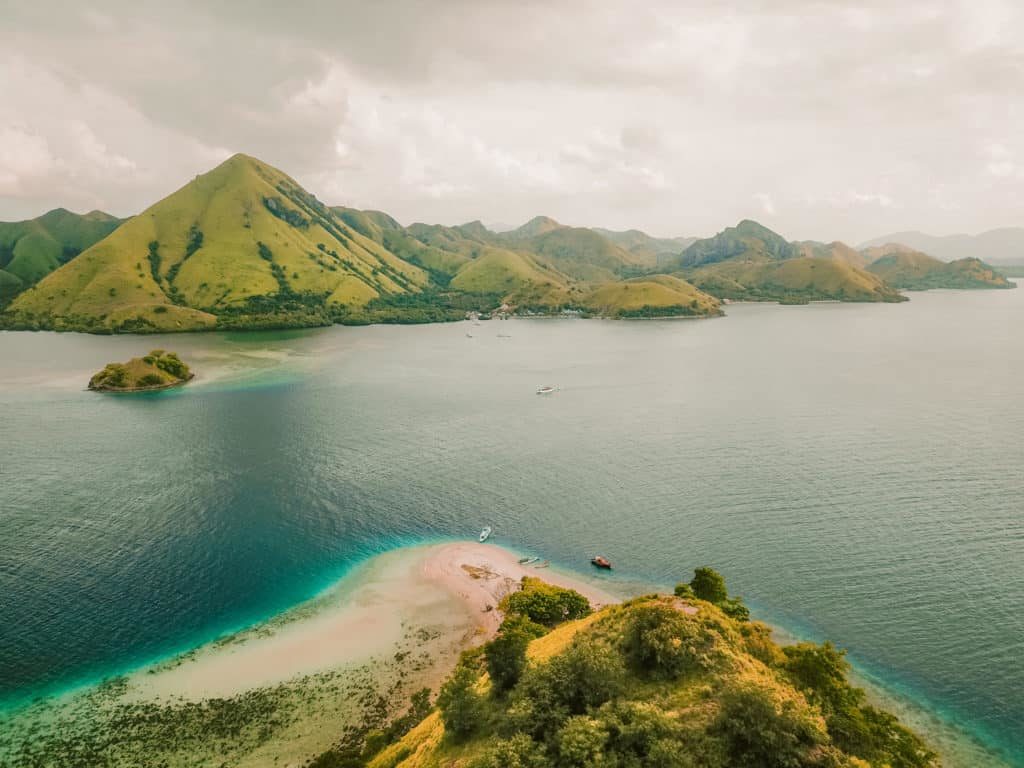 Rinca Island has similar surrounding just like Komodo Island. You can also find some beautiful beaches and hills on this island. The exciting part of exploring Rinca Island is that you can see many wild animals. After exploring the meadow and forest, you can relax your body and mind on the beach. The water is warm and the scenery is so amazing. To get the best view of the island, you can go to the top of the hill. Just bring your camera to capture the astonishing sky. The calm atmosphere is perfect for those who want to relax for a while. Just be ready because you are about to explore the 18.500-hectare area. This is also the habitat of 2.000 Komodo Dragons. There is a Komodo Statue on this island to show that Rinca Island is the home of Komodo Dragons. Exploring Rinca Island is challenging because you will see Komodo Dragons walk freely around the area. Because of that, it is better not to bring a snack or food because the smell might attract this wild animal to get close to you. There are also some interesting places to visit close to the island such as Motang, Kode, and Padar Island.
Gili Lawa Island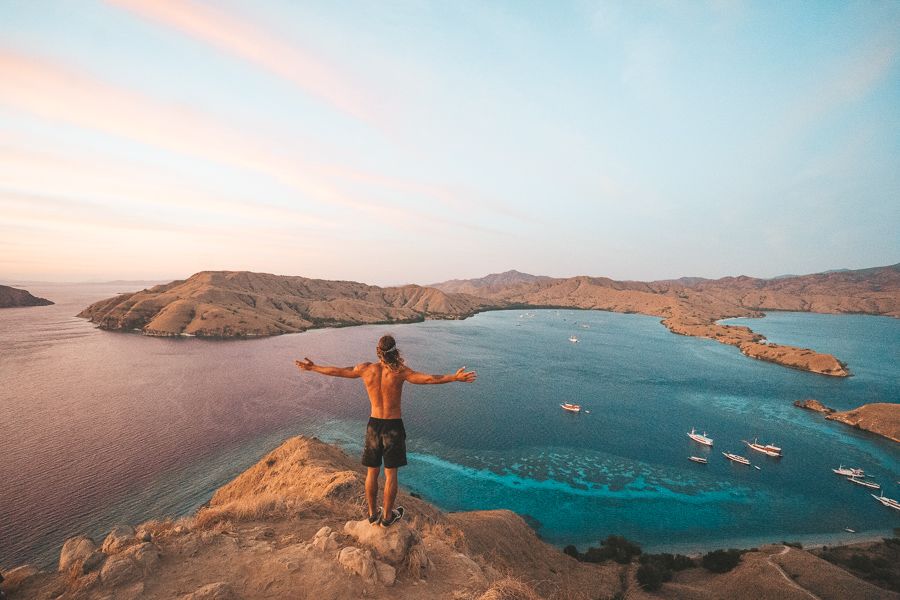 Gili Lawa Island is another place where you can see Komodo Dragons closely with your eyes. Komodo Dragon is not only the main attraction because you can also enjoy the beauty of the Sea Gili Lawa Island. You will see it anytime you go to Komodo National Park because it is the entrance of the park. Besides enjoying the beautiful beaches, there are also some hills covered by savanna and grasses. Due to the route, Gili Lawa Island is one of the best trekking areas in Labuan Bajo. It is better not to go to Gili Lawa Island by yourself, especially if it is your first time to go there. Just hire a professional tour guide to help you to explore this area safely. After the exhausting trekking, you can just sit or lay down on the sea sand while waiting for the sunset. This area becomes one of the most popular tourist destinations in Labuan Bajo because it has beautiful sunrise and sunset. The underwater is also beautiful along with coral reefs and fishes. That's why people take this opportunity to dive the sea and enjoy the beauty. Commonly, travelers will dive to a specific place known as Castle Rock in which it is the place of morays, batfish, soft corals, and many more.
Kanawa Island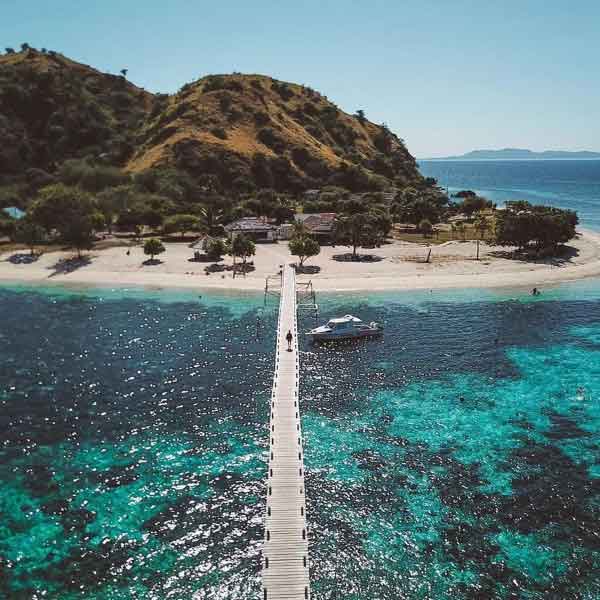 Beach lovers need to go to Kanawa Island when they are visiting Labuan Bajo. The beach on Kanawa Island is beautiful along with the stunning coral reefs. You can do snorkeling to see from the best view. The crystal clear seawater and white sand make the beach is a perfect place for relaxing. It is better to go to this island in the summer so you can enjoy the cloudy sky and warm weather. There is a small dock there and it is a place where people keep their boat before exploring the island. The water is so clear so you can see fishes passing by. You can also see the coral reefs close to the beach. The surrounding and the waves are safe enough for kids so it is a great place for a family who wants to take a holiday in Labuan Bajo. Don't forget to go to the hill because it is the place to enjoy the most beautiful scenery of Kanawa Island. Be careful because the route to the top of the hill is a little bit challenging. You will pass through a sandy landscape and a meadow. You will also see some bugs passing by. By the time you achieve the highest point, you will enjoy a wider view of Kanawa Island.
Komodo Island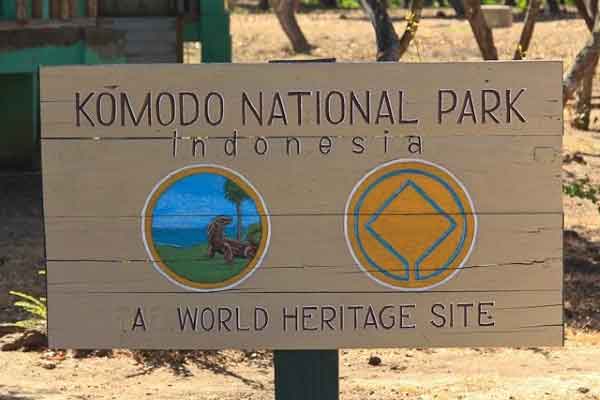 This is the main reason why travelers want to go to Labuan Bajo. Just like the name of the island, it is the habitat of Komodo Dragons. There are around 5.000 Komodo Dragons on this island. Some of them walk freely around the park so you have to be careful while visiting this area. Komodo Dragons can smell something strong. That's why travelers are not allowed to bring food while exploring the area, especially if they want to get close to the Komodo Dragons. You don't need to worry because there will be an expert tour guide who accompanies you to see the Komodo Dragons safely. This wild animal is not the only attraction because there are some beaches and bushes. The condition of the sea makes the sea on Komodo Island is perfect for diving. You can also visit some islands close to Komodo Island such as Gili Motang, Kode Island, and Rinca Island. The beach is the habitat of a variety of animals such as dolphins, whales, mantas, sharks, and many more. You will see some beautiful coral reefs that make the beach looks perfect. Besides Komodo Dragons, there are also some other wild animals here such as snakes, birds, horses, and many more.
Pink Beach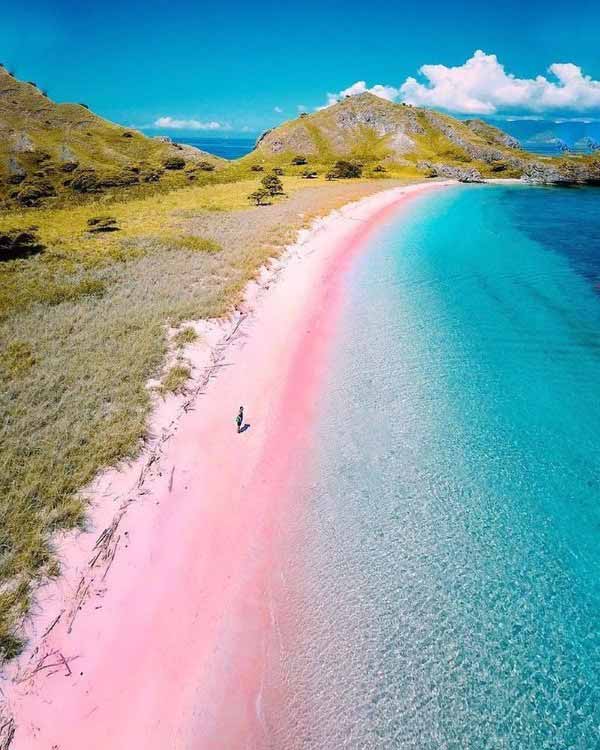 Another interesting beach in Labuan Bajo you have to visit is Pink Beach. This beach is unique because you will pink grains of sand. This is the reason why the beach is called the Pink Beach. The pink color is a natural color which comes from the color of the sea coral. The combination of crystal clear and blue water, pink sand, and blue sky make this beach comfortable for relaxing. The waves are also calm enough and some travelers use this opportunity to do snorkeling to enjoy the beauty of the surroundings as well as the beauty of the underwater. It is also safe enough for those who want to swim on this beach and see the coral reefs. Due to its uniqueness, Pink Beach is perfect for selfies or photographers who want to find a great nature as their photography object. Just share the result on your Instagram and makes your friends amaze with the beauty of the beach. Indeed, the main attraction of this beach is the pink beach sand that makes Pink Beach difference than any other beaches in Labuan Bajo. Of course, you must visit this beach before leaving Labuan Bajo because it might give something more than you are expected.    
  Read Also : 4 Fun Facts about Pink Beach of Labuan Bajo
Manta Point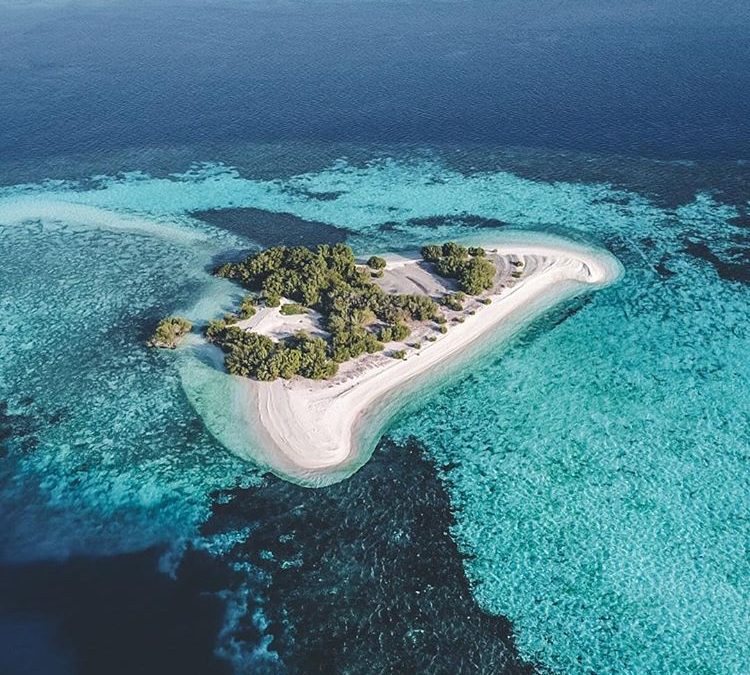 Visiting Komodo Island is incomplete without visiting Manta Point. The location of Manta Point is in Komodo Island. Manta Point is well known because of its aquatic life.
The underwater condition is extremely beautiful. Because of the condition of the sea and its beauty, Manta Point is one of the best places for diving in Labuan Bajo. All types of divers love to dive at Manta Point. One thing that most people want to see is turtles and Manta Rays.
All of the animals and coral reefs life peacefully on this beach. When you are visiting Manta Point, it seems that you are finding a new paradise in Labuan Bajo. That's why Manta Point becomes one of the best attractions when you are visiting Labuan Bajo. Just make sure that you are not leaving before exploring this beach. Indeed, you have to bring you camera to capture the beauty. Share the result to your friends so they know there is a paradise in a place known as Labuan Bajo
. At least, by visiting Manta Point you know that Komodo Dragons are not the only wild animal you can see on this area because there are a variety of animals live here.
Bukit Cinta (Love Hill)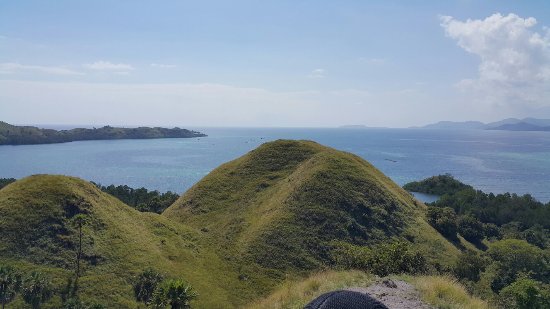 If you are visiting Labuan Bajo with your beloved one, it is better to go to a place known as Bukit Cinta or Love Hill. The hill is known as a Love Hill because of its beauty and romantic atmosphere. The best attraction on this hill is the golden sunset. The sunset looks perfect and amazing from the top of the hill. Indeed, Love Hill becomes one of the best places to enjoy the sunset in Labuan Bajo. The location is close to Labuan Bajo. You just need to take a walk for 10 minutes to the north. Then, you still have to take a walk to the peak of Love Hill. The route to the peak is not too difficult and you just need to spend around 10 to 15 minutes to achieve it. Moreover, the beautiful scenery along with fresh air make your trekking feels great. You can also stop for a while to take some photos, especially if you find a beautiful spot. The scenery on the peak of the hill is more beautiful than before. You can see the mesmerizing crystal clear sea, the scenery of Labuan Bajo, and all hills around the island. To feel the sensation, it is good if you go there with your beloved one.
Goa Batu Cermin (Batu Cermin Cave)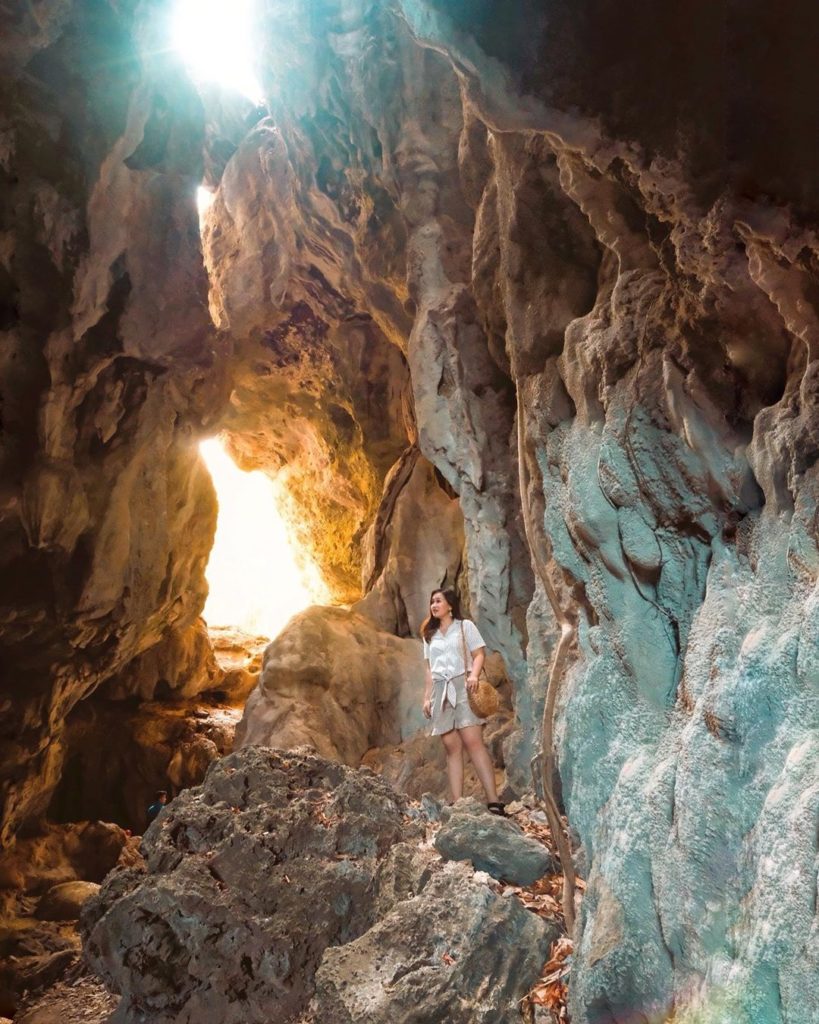 Batu Cermin Cave is for those who want to visit a challenging area in Labuan Bajo Trip. It consists of dark tunnels located in West Manggarai. To achieve the location, you have to go about 4 kilometers from Labuan Bajo. Batu Cermin Cave is close to the Labuan Bajo Harbor During the journey to the location, you can enjoy some forests that give you fresh air. Sometimes, you will meet wild animals such as long-tailed monkeys and wild boar.
Bring your anti-mosquito lotion and anti-malaria medicines while exploring Batu Cermin Cave to keep your exploration safe and comfortable. It is necessary, you can also wear a hat and sunglasses to give extra protection. You don't have to worry if you don't bring it because there is a supermarket in Labuan Bajo that sells that kind of items. The main attraction of this cave is the beauty of sunlight passing through the cave. The reflection creates a beautiful and unique object just like a mirror. This is the reason why the cave is known as Goa Batu Cermin or Batu Cermin Cave. You can rent a car to achieve the entrance of the location and take a walk until you get to the cave. The route is great and it is a good destination for trekking lovers.
Labuan Bajo Package Tour with Mansa Go
From the explanation above, you know that Labuan Bajo is a great island and you must visit it right away. Moreover, there are a lot of amazing places you have to visit during your time in Labuan Bajo Island. It will be difficult to manage the time and schedule if you go there alone. To make it simpler, you can just use the service offered by Mansa Go. This travel agency helps you to explore Labuan Bajo Tour Island and seek the wonderful things there.
Mansa Go is ready to manage your holiday in some places in Indonesia including Labuan Bajo Tour. This travel agency has an expert team who has known Labuan Bajo and its detail. They will lead you to great places in Labuan Bajo and do something interesting there. Just imagine the way you manage your holiday if you have to visit a lot of places.
Let Mansa Go handle and manage your schedule during your time in Labuan Bajo Tour Island
You just need to focus on exploration and adventure and get a lot of interesting things. To join the exploration to Labuan Bajo with Mansago, you can choose one of the packages. Each of the packages is interesting to try along with an affordable price. The cost includes travel insurance, return boat transfer and hotel transfer, welcome drink and lunch, snorkeling equipment and towel, and tour based on the location chosen on the package.
Mansa Go knows what to do to satisfy their clients due to their 15 years of experience
Don't get confused about the way to manage your time while in Labuan Bajo Tour. Mansa Go gives you great assistance who has experience at local attractions. The assistance will manage your time so you can explore Labuan Bajo maximally and get the things you want to know. If you need something, you just call the customer service or operator and they are ready to help you 24 hours. For more information, you can visit the official website Mansago.com or send your email to [email protected]. While managing your holiday to Labuan Bajo Tour Package , you can get interesting information about the best destinations in Indonesia, especially Bali, Nusa Penida, Nusa Lembongan, and Labuan Bajo on the official website.
Check other Trip : Looking for Nusa Penida Tour ?
So, what you have to do is complete the requirement and prepare all the things you have to bring to Labuan Bajo. Don't forget to keep your health and stamina because you are about to do some interesting and challenging outdoor activities there. That's it! Just give the rest of the things to Mansa Go and enjoy the trip maximally.
The point is that you know that exploring Labuan Bajo Tour Island is easy to do now. It doesn't matter if it is your first time to go to Labuan Bajo because Mansa Go knows how to serve you well. In the end, you will get a great and memorable holiday experience to Labuan Bajo Trip Island and can't wait to go back soon.