West Nusa Penida Tour is one of the best tour services that is located in Nusa Penida. It is a tour company that is managed by professional native people. Furthermore these natives have a great experience regarding friendly tourist activities. Get Best Price for Nusa Penida Trip.
We also offer excellent services to our visitors. Most importantly, we have more than five years experience in the tourism industry. We offer you various kind of Nusa Penida tour packages with sensible prices. Moreover, our tour company is exceptionally recommended by many of the traveller reviewer such as Tripadvisor.
Nusa Penida is one of the most favorite places to visit during holiday season aside from Bali. Nusa Penida is the largest and most alluring island from the three Nusa Penida's Island. It has distinctive cliff formations and lagoons. It is located on the southeast of Bali island. Nusa Penida offers a spectacular natural beauty, especially for its beaches and cliff formations. It has a lot of gorgeous beaches that you and the other visitors should definitely visit. As a result, nowadays many visitors want to visit this amazing tourist destination.
Read More
If you have a plan in the near future to visit Nusa Penida you should contact us. We offer you a land tour type of activity Nusa Penida Day Tour. The activity that we offer is including West Nusa Penida Tour or East Nusa Penida Tour
By choosing this package you will get some itinerary. They are including
West : Kelingking beach, Angel Billabong, Broken beach and Crystal bay.
East : Thousand Island ,Tree House Molenteng, Diamond Beach, Atuh Beach, Teletubbies Hill
Read article : Looking Nusa Penida Tour
Kelingking beach offers you a great view of spread out ocean ahead of you from a T-rex shape cliff. It will give you an amazing trekking experience, that will leave you want to go back here again and again.
Furthermore, you could also swim around on this beach, but you need to be careful because the wave is powerful. Here in Angel Billabong, you could swim around on the low tide, and it is one of the most popular things that the visitors like to do. In broken beach you could experience fun trekking, enjoy the spread out savannah and find hidden photo spot that is absolutely amazing.
This place is definitely perfect for you guys who like to take pictures. For you guys who are sunset lovers, you definitely will love crystal bay. You could relax on the beach while enjoying the sunset.
Wait are you waiting for? Book Nusa Penida tour packages on our tour company right now and experience a gorgeous natural beauty that Nusa Penida has offered you. Make your holiday become an unforgettable memory for you.
Tripadvisor article about Nusa Penida: Traveller Choice Popular Destinations — World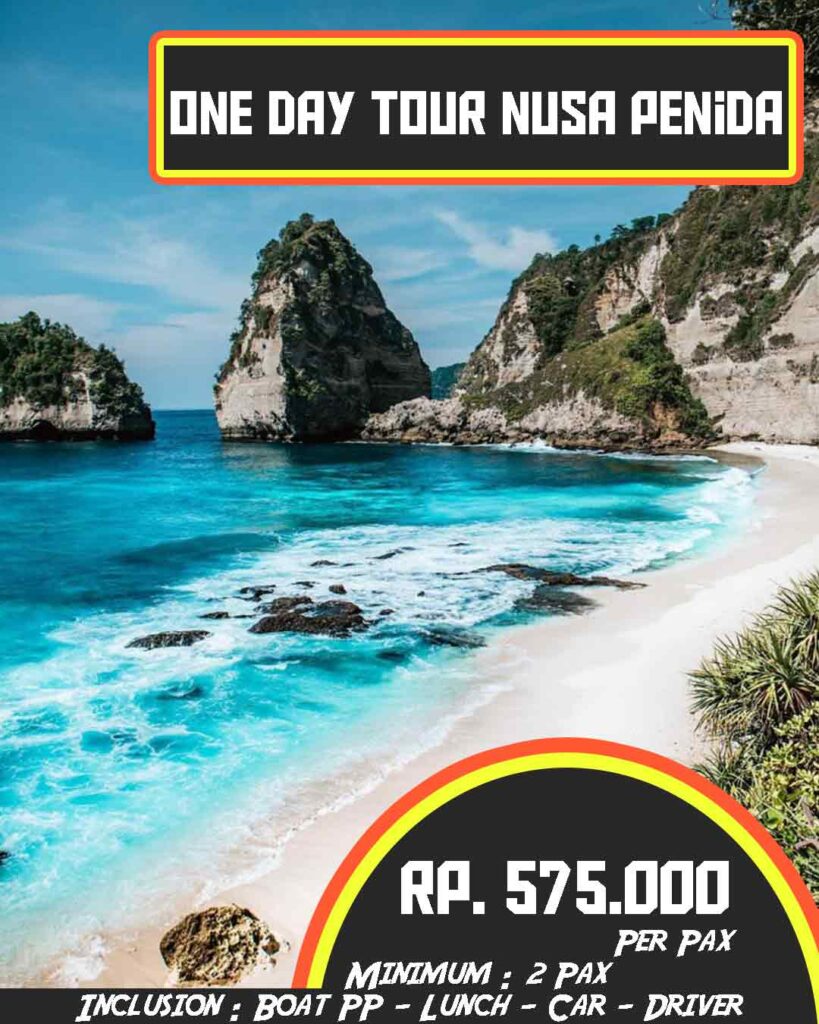 Dоmеstіс Rate
2 оrаng : ІDR 575.000 / оrаng
3 оrаng : ІDR 425.000 / оrаng
4 оrаng : ІDR 400.000 / оrаng
5 оrаng : ІDR 360.000 / оrаng
6 оrаng : ІDR 350.000 / оrаng
Foreign Rate
+ IDR 200.000 / pax
Nusa Penida Package Detail