Pink Beach of Labuan Bajo is located in Komodo Island, West Flores, Nusa Tenggara Timur, Indonesia. To reach the location, tourists indeed need to ride some transportation devices. Well, it is based on the fact that the location is not only surrounded by oceans but also hills. What makes this beach unique is, of course, about the sand that is in pink. The color is rarely found in other beaches even in the world. Besides, there are some other fun facts about the beach that you should acknowledge. Here they are.
Pink-Pigmented Corals
The main question when seeing the beach is; what causes the pink color of the sand. The answer is because of the pink-pigmented corals, known also Phoraminipheres. The corals originally from the ocean of Labuan Bajo. Then, they are following the waves into the coastal lines and then, broken. The sprinkles of corals are then mixed with the sand. This way, the sand, in general, turns into pink, really contrast with the blue water around.
Various Fish and Coral Species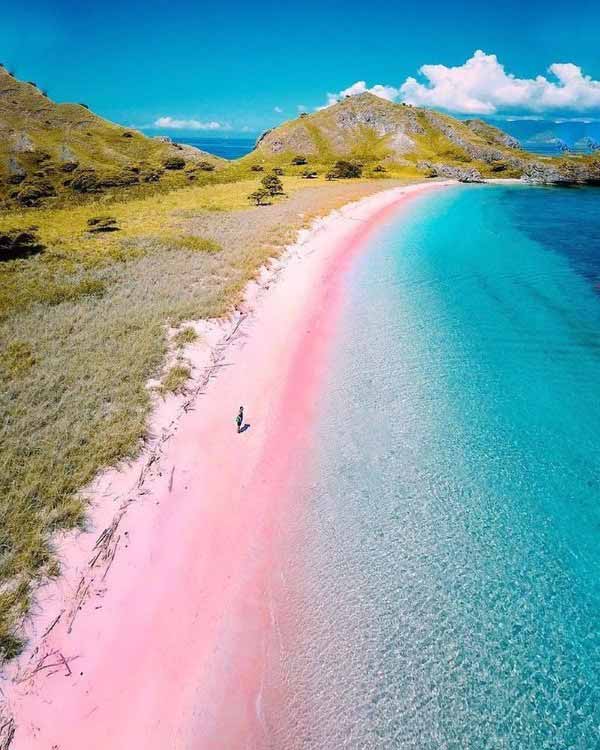 Pink Beach is one of the best places to do some water sports including snorkeling and diving. There are many reasons to snorkel or dive here. One of them is the various fish and coral species with stunning shapes and colors. There is a regulation applied in Pink Beach. It is that the ship or boat cannot be closer to the coastline. It is to maintain the corals and fish that are living in the shallow water. How are about the visitors who come from the ship? Before the coastline area, the visitors must ride a non-engine boat that is connected to the land using a rope.
Read also : Labuan Bajo Tour Guide –
Meet Komodo Dragon
If you have a plan to visit this island, don't be surprised if you see the Komodo dragon. Indeed, the species is commonly living in the forestry area on the island. But sometimes, one or two of them is seen passing through the beach area. Based on this fact, make sure to be really careful. There must be an experienced tour guide to accompany you there.
One of the Most Beautiful Beaches in the World
Based on surveys and polls conducted by some companies and sites, Pink Beach of Labuan Bajo is named as one of the most beautiful beaches in the world. It is not only because of the unique sand color. More than that, the landscape around is also definitely really stunning. So, it is reasonable to say that this beach is worth visiting.
Other Article :
Labuan Bajo Tour Guide : What you need to know before you go