Nusa Penida Tour
Nusa Penida Tour is simply one of many amazing things Bali has to offer. The island is part of the Nusa Islands that consists of three islands. However, Nusa Penida is the least developed until today. You will be amazed by how stunning its white sand that sits nicely with the silky blue pristine ocean.
A one-day tour might be enough to visit several popular spots on the island but you can always extend your stay up to three days to explore most parts of the island. However, we highly recommend you to stay at least 5 days and 4 nights to get into the entire island. Nusa Penida is a big island which is impossible to get around the whole island if you only have one day. You just need to hop on a boat from a harbor in Bali.
You can choose to explore the west side or the east side of Nusa Penida. Each side provides gorgeous views and stunning scenery after all. Also, you cannot skip those places considering those are the highlights of Nusa Penida.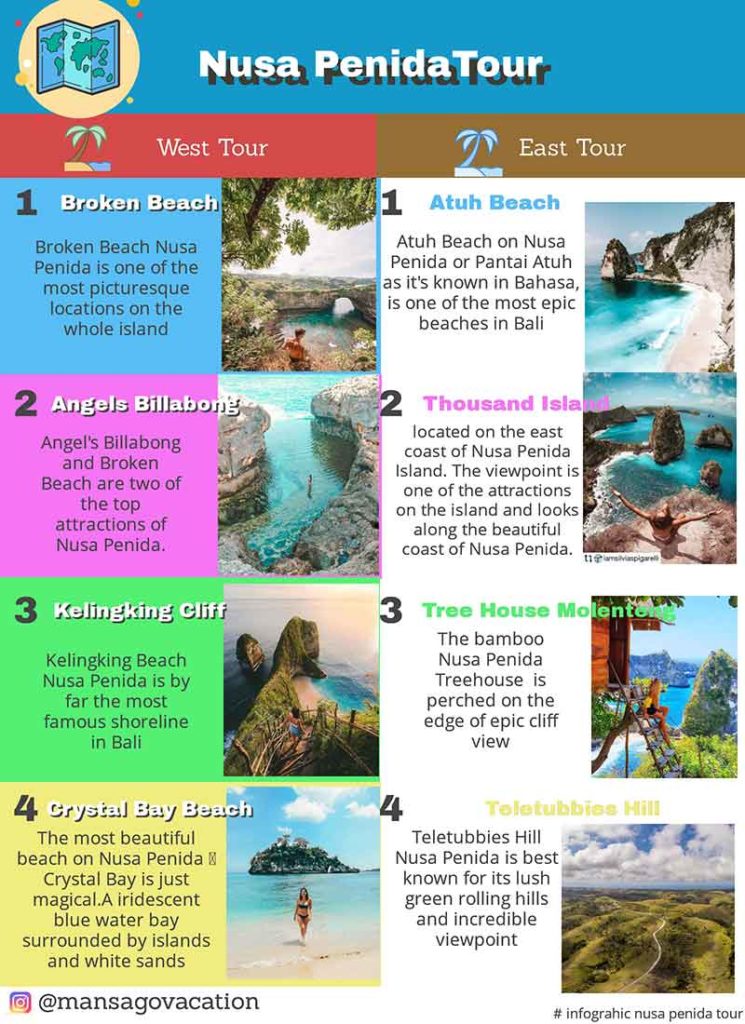 This is why you may need to consider hiring a guide or using a tour package for this holiday. Having a tour guide from a reputable tour company will help you to arrange the whole holiday much better. Also, you can get the most of your time without wasting money while you can get into important places. Be quick to book your trip to Nusa Penida before it is too late!
Compared to the other Nusa Islands like Nusa Lembongan and Nusa Ceningan, Nusa Penida is quieter. The available ferries and boats that will bring you to this island are also not as many as the ones that will take you to Nusa Lembongan. Besides, the road is a series of challenges you should tame. It tests your heart and muscles for sure.
However, everything you will get to see on Nusa Penida is worth the fight. The entire island is more pristine than Bali.this place discovered since 2015 by many people, the vibe offered by this island is never changed from time to time. It offers tons of adventures in nature. You can simply chill over by the beach or get lost by exploring deeper into the island.
So, if you are planning to spend your holiday in Bali, make sure you also book your trip to Nusa Penida. It will not let you down and the experience you will get is not something that can be offered by other places in this whole world. In this article, we will show you anything you need to know and see during a Nusa Penida Tour.
Nusa Penida Day Tour Price
Everybody loves Bali and we should agree with it. Even though Nusa Penida is apart from Bali Island, people are often mistaken about this island, after all, considering the location is in the southeast of Bali. if you only have one day to explore the trip, you can take a one-day trip to Nusa Penida. However, if you have more than one day, you should stay for a couple of nights instead.
How to Get to Nusa Penida
Since Nusa Penida is pretty popular nowadays, there are three options you have if you want to go on your own. This is why you need to book a trip for your sake. Speed Boats are available from Sanur Beach and Tanjong Benoa. However, if you choose the economical way, Ferries are available at Padang Bai.
Meanwhile, there is almost no information about booking a ticket if you prefer to join a local ferry from Padang Bai. You should go to Padang Bai and purchase a ferry ticket directly from the ticket booth. It only costs IDR 40,000 and extra IDR 50,000 if you bring your motorbike inside the boat. The ferry takes off every 11 am from Padang Bai every day and can be touted as the cheapest way to go to Nusa Penida Island.
The ride takes about one hour and a half while you should share the boat with many people. Around this area, cheap accommodations, foods, and motorbike rental rates are available. So, if your main destination is to get to the Nusa Penida on your first day, you may opt for staying around Padang Bai and move to the city after your trip is completed.
Fast Boat Ticket from Sanur to Nusa Penida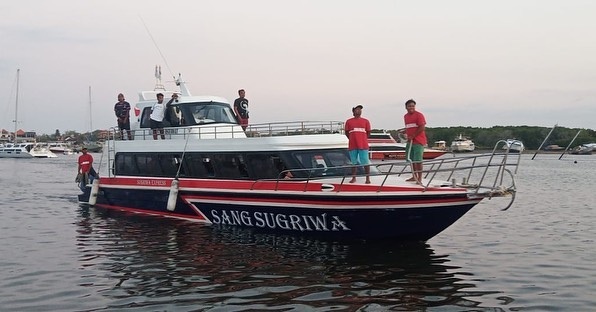 If you want a faster way and will not mind about the price, you can take the speedboat or fast boat from Sanur Beach. This is also the easiest yet most popular choice among tourists. You can take the fast boat from Sanur Beach.
The ticket of a fast boat to Nusa Penida from Sanur Beach costs IDR 350,000 per person to go both ways. But if you buy ticket from Mansago, you will get the price more lower than buy at port due to we have contract with them. However, make sure both you and the boat provider have reached an agreement for the price before you take off.
Fast boats are available every two hours or so while the operation hour is between 10 am and 4 pm every day. If you plan to take a one-day Nusa Penida Tour, we highly recommend you to catch the first boat.
Fast boats are also available from Tanjong Benoa that is located close to Nusa Dua. The price is cheaper than the boats from Sanur. However, the number is not as many as the boats from Sanur. They only got to the Nusa Penida every Monday, Wednesday, and Friday while there is only one boat to go back and forth.
Best Port at Sanur Location at Pemelisan
Nusa Penida Half / One Day Tour
Even though it is possible to get a one day tour to Nusa Penida, we do not recommend it for many reasons. Since the island is very popular nowadays, there are a bunch of tourists go there.
Nusa Penida is considered as the biggest island compared to Nusa Lembongan and Nusa Ceningan.
Other than that, you can only get to the highlights of the island by choosing a one-day trip. Of course, you can have a private driver and car as well but it will not be enough to explore the entire island. However, if one day is the only thing you have for this island, we will show you how the one-day tour will work.
In general, Nusa Penida always offers stunning scenery every time we got there. Yet, the best time to visit this island might be between April and October. If you love diving, you better come from September to November. For your information, there are tons of discounts and great deals from February to June. The weather in Nusa Penida never disappoints the tourists in general.
So, the one-day tour should be started by getting to the island in the morning. We recommend you to catch the first boat so you can enjoy the whole day. Some providers open from 10 am but some of them also open earlier from Sanur. There are plenty of boat providers and you can choose a schedule that matches yours. Buying tickets in advance is highly recommended.
Once you have reached Nusa Penida, you will see many people offer car and bike rentals. It costs IDR 75,000 for a motorbike and IDR 500,000 for a car but the price is applicable for domestic tourists. The car rental price is commonly including a private driver as well.
As we have mentioned earlier, you can only visit the highlights of Nusa Penida from a one-day tour. The driver will take you to Raja Lima and Rumah Pohon. Later, you can enjoy lunch at Atuh Beach. After that, you can walk to the Diamond Beach that is located near Atuh Beach. It has many spots to take snaps. You should be at the harbor before 5 pm to catch the last boat to Sanur.
The overall road in Nusa Penida is adventurous and you better rent a car with a driver if your driving experience is not good enough. Taking a motorbike is a good idea too.
Read This Article :
Things To do in Nusa Lembongan
West Nusa Penida One Day Tour
We have a summary about the one-day tour to the West Nusa Penida. You can always start your journey from Sanur but you can also make it from Nusa Lembongan which only takes about 10 minutes by a fast boat. Once you reach Toyapaked, the harbor of Nusa Penida, you will see people offer motorbikes and cars rentals. It is always better to choose a car with a driver to make the most of your time on the island.
The trip is customizable and you can discuss it with your driver. Our itinerary includes Angel's Billabong, Broken Beach, Kelingking Cliff, and Crystal Bay Beach. It is important to inform the driver about what you want to visit so the driver can manage the time and what to visit in the first place.
West Nusa Penida is possible to be explored in one-day tour considering the location is not too far from each other. It is much better to start early in the day by catching the first boat that will take you to Toyapakeh Harbor. We will also remind you that the road in Nusa Penida is bumpy and rough. Preparing your energy before the trip is important after all.
Angel's Billabong Nusa Penida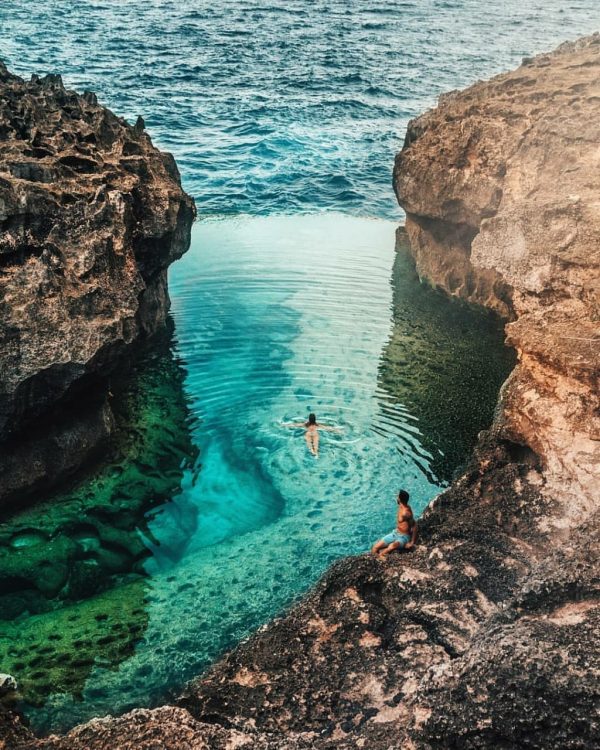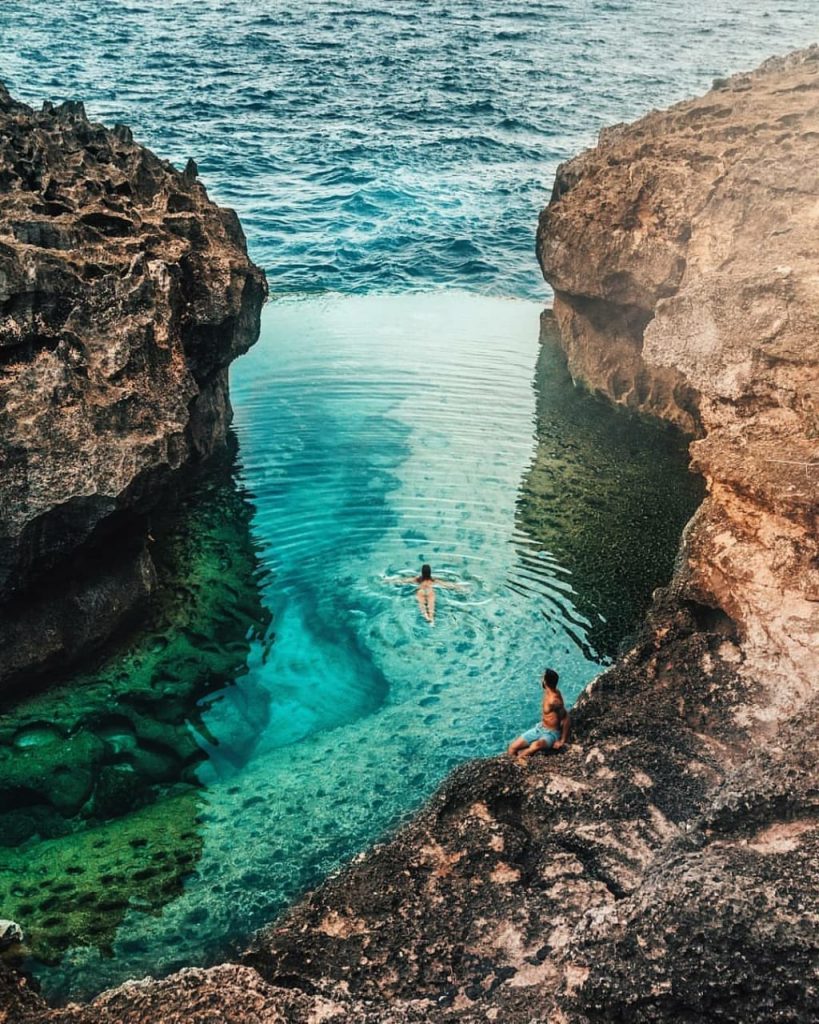 We would say that the road to reach Angel's Billabong and Broken Beach is the worst on the island. Besides the bumpy road, it is pretty dusty. You will also find many people walk their motorcycles here and there. This place is one of the must-visit places for a one-day trip to Nusa Penida.
once you have reached the Angel's Billabong, you will not regreted.
Angel's Billabong is a natural infinity pool on the island. This place is where water from rivers flow before it ends up in the ocean. The water is crystal clear so you can simply swim down there. However, it will not be a perfect day to swim in it where the east wind from Australia got there. It makes high tide. Since the rocks are sharp, you will not be allowed to swim when the tide is high for safety concern.
This place is a popular spot to take pictures yet so busy during the holiday season. Feel free to sunbathe on the rocks. Feel the calming vibe when you hear the sound of the waves slamming the rocks. Other than that, this place is located next to Broken Beach. You can simply walk to reach the beach.
Broken Beach Nusa Penida
Broken Beach is also called Pasih Uug by the local tongue, located at the southwestern edge of the island. You can see a hilly rock arch surrounds the beach. If you came from Angel's Billabong, you can simply take a 5-minute walk from the pool. People love taking pictures in this spot due to its stunning panoramic scenery.
You can expect to witness the waves of the Indian Ocean splash the rocks. If you are lucky, silhouettes of some giant mantas are around the deep blue water surface too. Near the beach, you will find a place where many grey long-tailed macaques stay.
The road is pretty rough and drivers make jokes that it takes the broken road to get the Broken Beach. Still, the seascape is worth the route. However, you cannot expect to swim while you hear "beach" stated in this case. You can only admire the beauty from the cliff but we encourage you to walk through the entire cliff. Every angle is worth the effort.
You can also purchase some refreshments like beers or iced tea and chill on the cliff edge enjoying everything with your bare eyes. The waves are interesting during the high tide but you should be careful after all.
Kelingking Cliff Nusa Penida
Kelingking Beach is one of the best places you will ever visit on the island. It is shown by tons of beautiful photos on the instagram. However, the pleasure and happiness you will get by witnessing the view by your bare eyes are far above your expectations. Feel free to walk through the cliff to find the vantage points.
You will need to walk over a dirt path of a small hill and when you check the other side, you will witness a stunning view of the beach. If you are lucky enough, you can spot silhouettes of some giant Manta fish swim around the ocean.
We highly recommend you to visit this place in the morning or around the sunset considering how busy and popular this spot is. However, if you plan to walk down the beach, you can suit yourself.
You need to get through a steep path down. It is dirty and almost vertical at some point. There is a handrail that may help you but it is very sketchy though. Since the place is very busy, you may think twice to go down the beach and get through the path. You may need 45 minutes to explore the vantage.
Crystal Bay Beach Nusa Penida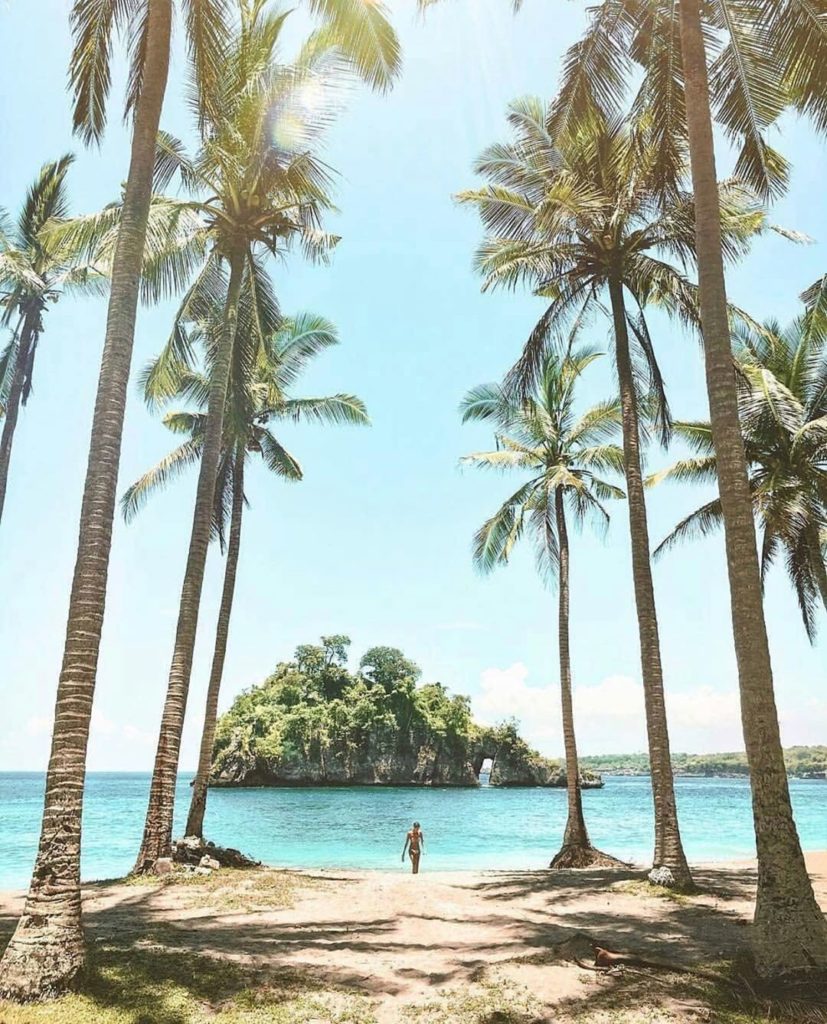 Crystal Bay can is touted as a hidden beach and diving spot on the island. Even the spot is secluded inside a cove. Even though it sounds isolated for such a stunning beach, you can access it easily since the road has been developed. The beach is decorated with some palm trees here and there. If you are into snorkeling and diving, you should visit this place. However, you need to dedicate a day for this place alone.
Since most beaches in Nusa Penida can only be enjoyed from atop a hill, this will be a great pay off for you. You can just walk on the sand and chill near the ocean water while enjoying fresh coconuts from nearby stalls. Also, feel free to swim if you want to.
And if you want to snorkel and dive on this beach, you can rent the equipment at the rentals nearby. If you just want to get lazy, you can purchase some snacks and cold drinks from the stalls and chill under the sunbed with a parasol shade on top of you. Diving is great during the mid-year considering many species migrate to the ocean in those days. Also, there are a few pretty temples you can explore along the bay.
East Nusa Penida One Day Tour
Most holiday packages offer a one-day tour to the west part of Nusa Penida. However, the east coast part is a bit more untouched so you may find it pretty interesting if you have an adventurous soul. The east side is easier and closer to reach if you take a boat from Sanur. However, the ticket price for a fast boat from Sanur is a bit more expensive than the ones you can buy from Tanjong Benoa. Other than that, fast boats are the only option you have and no ferries are available from Sanur.
Still, you will get the amazing experience by exploring the east side of Nusa Penida. The highlights include Teletubbies Hill, Atuh Beach, Thousand Islands View Point, and Goa Giri Temple. We encourage you to take the earliest boat to Nusa Penida Island Tour so you can explore the whole highlights.
You will also see many people offer cars and motorbikes to rent. The price is varied but it costs around IDR 75,000 for a motorbike and IDR 500,000 for a car. Hiring a driver is highly recommended so your time can be more effective. Also, local drivers know best. Here are places you should visit while you stay on the island. Do not forget to bring along your camera.
Read Also :
Labuan Bajo Tour Guide; What you need to know before You Go
An Ultimate Guide for Nusa Lembongan Day Trip with Mansago
Goa Giri Temple
Goa Giri Temple is a major cultural attraction on the island. The temple is located inside a big cave in the Suana Village. The entrance is guarded by a shelter for priests and a shrine. To get through the entrance, you need to stoop down low in the first place.
The temple has a huge courtyard with some parts covered with marble. Magical is the word you can use to describe this place.
There are 6 praying spots in this temple complex. You will need to get through a holy water purification ritual as part of the visitation. When major ceremonies happen, everyone should take turns to get inside the cave. People who want to pray inside the temple should take a seat on the marble platforms. The floor is constantly watered with the drips from stalactites and this is why.
The final praying spot is the most unique feature of this temple. This spot is used for the Goddess of Mercy and the god of sky and earth. You will see various ornaments and lanterns with a Chinese style. You need to wear appropriate clothes to visit this place. Renting a sash and sarong is recommended.
Thousand Island View Point
it is called Pulau Seribu by the local People. It is also one of the well-known places to visit when you are in Nusa Penida. Since the island is very big, it may take more than one hour to explore the entire edge. Exploring the whole area with a scooter would be an interesting experience for you. Also, the road has been developed considering the tourism traffic on this island increases from time to time.
The viewpoint is where you can witness a stunning view from the hill. Some stalls sell refreshments, snacks, and drinks so you will have a company while enjoying the vibe. The hike is short but you may get steamy after all. So, do not forget to bring your water.
There are several viewpoints you can explore. As we have mentioned earlier, you will need at least one hour to explore all viewpoints. However, the view you will witness is priceless and worth every effort. There is a treehouse where you can use to chill out and wait for the sun goes down. If you plan to stay at the Treehouse or Rumah Pohon, you better book your stay in advance or you will not make it in the D-day.
Atuh Beach
When you visit Nusa Penida, you will agree with us if this place is one of the most epic sceneries in Bali when it comes to beaches. The drive is rough and bumpy yet including a short path down to the beach. However, everything you will see down there is worth the sweat.
When the tide is low, you can watch exposed rocks everywhere. Meanwhile, you can only see the sea when it is high tide. Even though both things are great, you will be happy to see the beach during high tide especially if you only have one day to explore the east part of Nusa Penida.
The beach is great to witness sunrises. Also, you will see a stunning reflection on the seawater. Some stalls around the beach open at 8 am so you may grab your breakfast then. You may also have the beach just for you and your soul at that time.
There are some places to stay near Atuh Beach. Ananta Bungalow is a good one for a value accommodation while Hostel Nusa Penida is great for the budget. On the other hand, Semabu Hills Resort will give you a luxurious place to stay.
Teletubbies Hill
Teletubbies Hill is another magical sight you will find in Nusa Penida. This place is essentially a group of rounded hills located in the center of the island. You will see the green hills after the rainy season that roughly stands between December and April. If you visit after April, the hills will look a bit yellowish. You will get the amazing breeze by standing atop the hill. Teletubbies Hill might be a perfect spot for those who look for a quiet time to chill for a minute.
The road is pretty rough and tough so you need to be careful if you expect to visit the hills by a scooter. It takes about one hour from the harbor that you take from Sanur. Essentially, you do not need to hike but you can go up there until reaching the top part of the hill to look everything more clearly and closer.
Teletubbies Hill is one of the highlights at the east part of Nusa Penida Island. Most of the places here are calmer and quieter compared to the west part of the island. However, you will get the best holiday experience after all.
Best Activities: Snorkeling at Nusa Penida
Snorkeling is a must when you have reached Nusa Penida. You probably need to dedicate one day to get the most incredible time to snorkeling in Nusa Penida. Three main spots provide the best experience for snorkeling and diving. Some tour companies offer this kind of package for those who love to get into the ocean and see the marine life. If you have a license for diving, you can go for it. Otherwise, you better get the snorkel instead.
The most popular place to snorkel and dive might be the Manta Point. Here you can enjoy the view of Manta fish in various sizes. The biggest Manta fish has a wingspan with a length over 3 meters. They have various patterns on their body that will amaze you from the first time you meet them. Other than Manta fish, you will also witness some other populations of marine life such as moray eels, corals, porcelain crabs, and octopus.
Diving in Manta Point will take you to 7m to 20m of depth. Unless you are a professional, you better not dive in here. We encourage you to bring your camera along.
If you are more into snorkeling than diving, you should visit Gamat Bay. Gamat Bay is a snorkeling spot that offers pristine water and steep rocks. You will get through a steep slope before reaching the bay. Diving can be done in this spot as well and you can even just chill at the beach.
You may spot turtles, Manta fish, sunfish, pelagic fish, and some sharks here. The water is shallow and rocky though.
The next spot is Crystal Bay. If you are not into diving or snorkeling, you can simply swim here. Yet, this spot is very popular among divers after all. Meanwhile, you can go 10m underwater to an underwater cave. Its exotic vibe and unique scenery will hypnotize you. Meanwhile, you will need to dive deeper if you want to take a look at the sea nautical scenery.
Here you will run to coral reefs and beautiful fish such as nurse sharks and sunfish. Some packages for snorkeling and diving in Nusa Penida are available to purchase.
Best Places to Stay at Nusa Penida
Crystal Bay is the perfect place for you if your main goal is to chill, snorkel, and relax. Here is also the best place if you want to witness sunsets during your stay.
Meanwhile, if you need a secluded place to stay on the island, you can try Diamond Beach and the Thousand Islands Viewpoint. This place is also where some popular attractions take place. Near Atuh Beach is great as well.
On the other hand, if you want to stay near chill bars and nice restaurants, stunning temples, and comfortable spots, you can try the north side of Nusa Penida in the first place.
The best places to stay on the west side or near Toyapakeh cost from USD 13 up to USD 40 per night. If you go to Crystal Bay, the accommodation costs from USD 43 up to USD 51 per night. Accommodations in the southeast area or near Atuh Beach cost from USD 32 to USD 74 per night. Meanwhile, if you go to the northeast area or near Ped-Buyuk, the accommodation costs from USD 19 per person up to USD 68 per night. Check the rating on the internet before you choose a place to stay.
Mansago offers several packages to explore the island in one day.
The price starts from USD 55.5 per person and you can get a great deal if you book for a group of people. Make sure you call them through email or WhatsApp for the registration. So, what are you waiting for?
if You need Nusa Penida Tour information just Call Us / whatsapp