The beauty of the island of Nusa Penida that has worldwide makes anyone want to explore it. Its natural beauty makes anyone amazed.
Not only the beautiful white sand beach, towering cliffs and underwater panorama that save so many marine biota species is one of its attractions.
On this occasion mansago.com wanted to share information about Nusa Penida Island map.
Nusa Penida Island Map by Google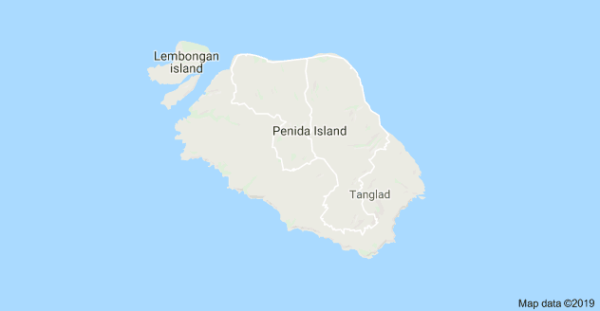 The tourists, especially those who have never visited Bali, are certainly not very familiar with the pathway and what is in the area.
This also happened when visiting Nusa Penida Island. That's why every tourist who wants to visit Nusa Penida will greatly need Nusa Penida Island map as a guide.
There are several reasons why using maps is highly recommended to be prepared in advance when visiting Nusa Penida Island. Here's the review!
First, you are more efficient in terms of costs. Usually in a travel map it will be loaded with various instructions containing various types and locations of transportation. You can choose what type of transportation you want and of course at an economical price.
Second, you can maximize the vacation opportunities that you have.
The Nusa Penida tourist location guide that contains information about the places there will greatly help you understand what places of interest are there.
You can even explore places that are completely new. With this tool you can find out which place has a beautiful view and a selection of the most delicious culinary list in Nusa Penida.
Thirdly, the travel situation will feel very different when using the map of Nusa Penida Island, and it becomes an interesting point in itself.
You will have greater interest when looking for locations to visit when looking at a map.
Believe it or not, every tourist must have experienced it. Unlike the case when using a guide who is required to follow the direction and agenda that has been set.
Nusa Penida Island map generally also contains specific location points for those who like watersports activities such as diving and snorkeling including diving sites on two other islands next to it, Nusa Lembongan and Nusa Ceningan.
Nusa Penida tourist attractions on the map are very diverse, such as Pasih Uug, Teletubbies Hill, Crystal Bay, Manta Bay and various other tourist attractions. You can determine tourist attractions that are close together in advance as a solution. That way the time you need is not spent just for the trip
Besides being able to get info on popular tourist attractions, with maps you can also get information about public places such as hotels, inns, ATMs, police stations, hospitals, gas stations and eating places that are usually visited by tourists.
Mansago.com can be the best map for those of you who want to take a vacation to Nusa Penida Island and Nusa Lembongan day trip in a wide selection of the best holiday packages for you.