With the many facilities and infrastructure provided by the government and the local community, visiting the island of Nusa Penida is not difficult. From year to year the government and the local community always improve themselves in providing the best facilities for tourists to always feel comfortable while on this island. All of you must have asked a lot about how to go to Nusa Penida and what preparations should be made? Here's the review.
Nusa Penida Island and Bali Island are separated by tens of kilometers and are divided by a strait called the Badung Strait. Because it is separated by the ocean, then the route to get to this island is only two ways, namely crossing using a boat or using air transportation such as a helicopter. If you choose to use sea crossing lines, you can use transportation such as speet boats, traditional boats, fast boats or ferries.
The first easiest way if you want to Nusa Penida day trip is through the Port of Sanur by using a fast boat. Try that you have booked tickets 1-2 days before the scheduled departure so that you do not run out of crossing ship tickets considering the many tourists who want to visit Nusa Penida. How to go to Nusa Penida by making a ticket purchase on the spot? You can go directly to the port of Sanur, there are many ticket booths for crossing tickets and try to arrive early if you want to buy it. The most early crossing starts at 7 am and the last crossing is carried out until 5 pm.
Prices for one crossing ticket are varied, prices will be different for foreign tourists and local tourists. You can buy a ticket for one departure or you can also buy a ticket for one round trip. The time needed to cross using fast boat is approximately 30 minutes depending on weather conditions and sea waves that will be navigated. After you arrive at Nusa Penida using a fast boat, the ship will dock in several ports such as Banjar Nyuh, Buyuk, Sampalan, and Toya Pakeh Ports. Therefore you mention the port you want to go to the official ticket counter when buying a departure ticket.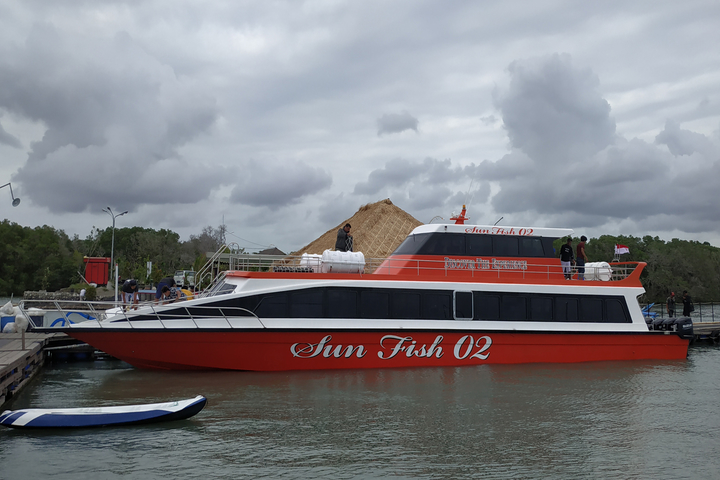 How to go to Nusa Penida by using a boat other than fast boat and at a cheaper price? There are other alternatives that you can use such as using traditional boat rental services owned by local residents through the port of Padang Bay, but the travel time can be doubled longer than using a fast boat. If you don't want to bother with that, you can visit Mansago.com, because there are various choices of interesting Nusa Penida Island tour packages. Ranging from crossing boats, hotels, to tourist cruising packages in Nusa Penida, you can find it at Mansago.com. Visit mansago.com and determine the best tour package for Nusa Penida that suits you best. Have a good vacation!