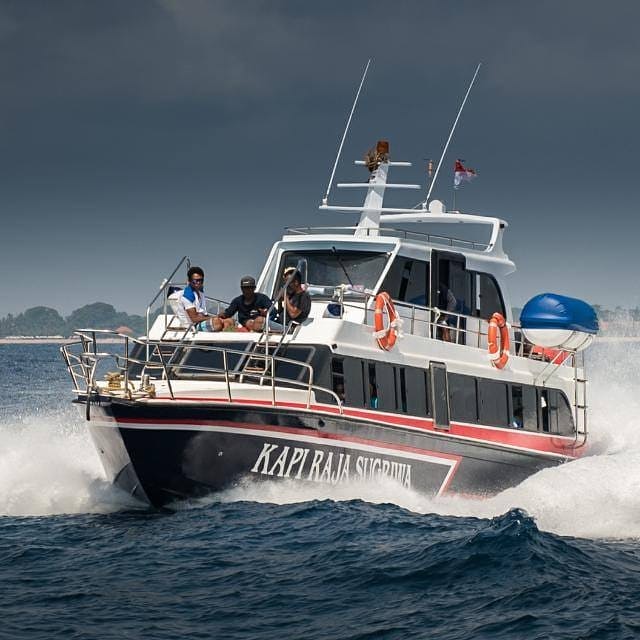 Fastboat to Nusa Lembongan from Bali, how to get it? Bali is well-known for some popular destinations like Kuta or Sanur Beach. Undeniably, those beaches are the most popular particularly in the realm of foreign visitors. However, do you know that Bali is also surrounded by some small islands that are worthy to visit as well? One of them is Nusa Lembongan anyway.
Nusa Lembongan is one of 3 "nusas" located not far from the island of Goddess. The other 2 are namely Nusa Penida and Nusa Ceningan. The island has many tourist spots with beautiful views. So, do you want to know more about this island? Read some explanations below.
The Location of Nusa Lembongan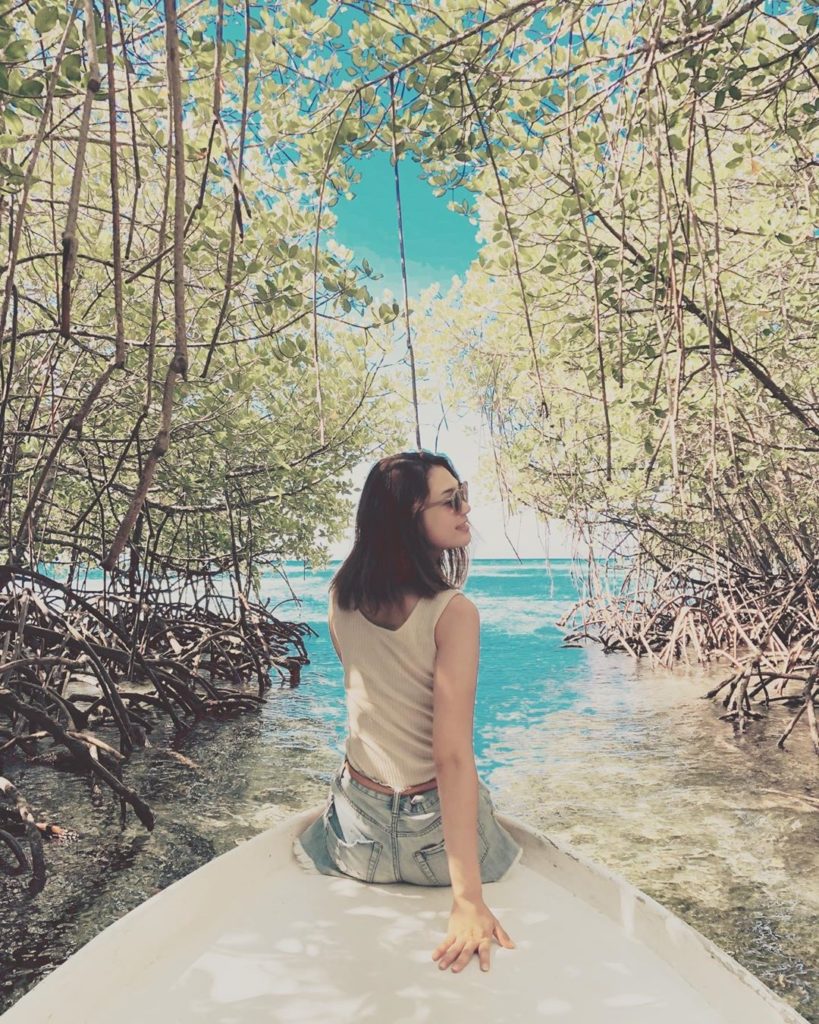 Nusa Lembongan is a small island in which the location is in the southeastern area of Bali. It is included in Klungkung District. Between Bali and Nusa Lembongan as well as two other islands, there is Badung Strait. That's why; if you want to go to the island via ocean, it means you must cross Badung Strait.
Previously, there are only a few people who know how beautiful Nusa Lembongan is. Even compared to Nusa Penida, Nusa Lembongan is indeed less popular. But currently, this island is a good alternative if all spots in Bali have been visited. Moreover, the island is still considered not too crowded. It makes Nusa Lembongan is really ideal if you want to go to a quiet place still in the area of Bali.
Attractions in Nusa Lembongan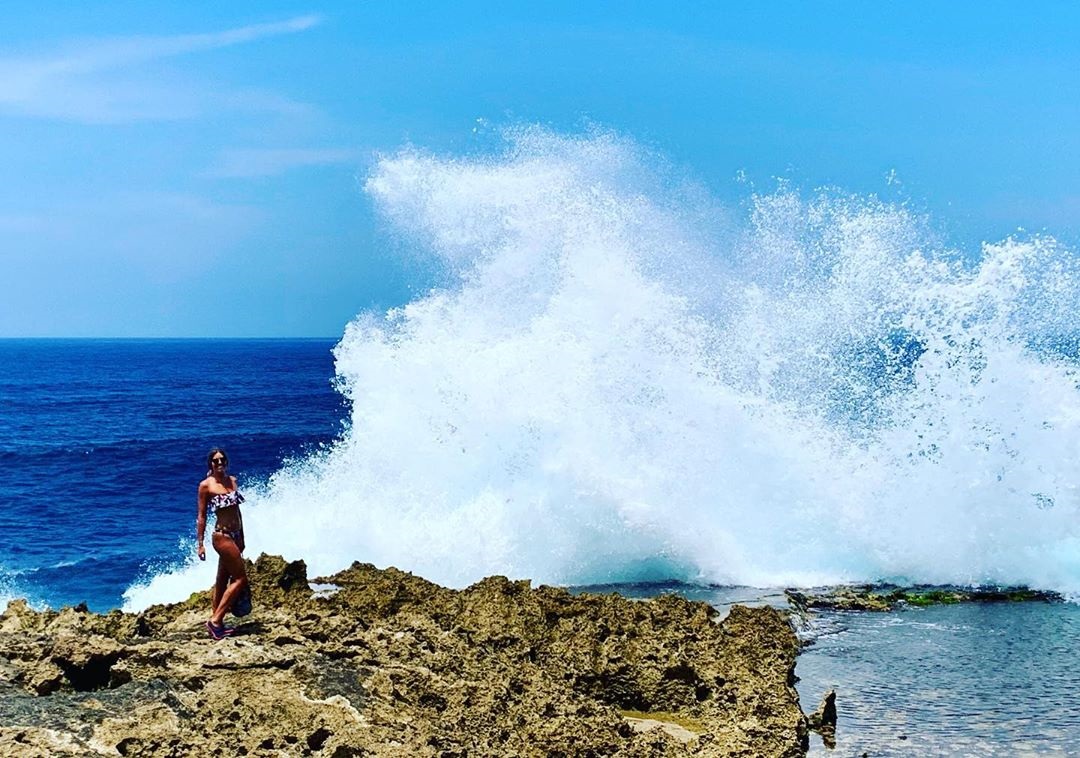 The main reason why people are going to Nusa Lembongan is, of course, because of its beautiful sceneries here and there. The beauty can be seen from the white-sand beaches, blue oceans, sunset views, and even the underwater landscapes.
Aside from being known for the stunning scenery, Nusa Lembongan is free from problems that are commonly experienced in Bali. One of them is the traffic jam. So, visiting one place to another will not take too much time anyway. The most recommended attractions in Nusa Lembongan are as follows.
First, there is Devil's Tear. Yes, the location is indeed as creepy as its name. But at the same time, it is really fabulous as well. Devil's Tear is basically a beach surrounded black and coarse coral. Therefore, visitors are not recommended to get closer to the coastal line. Moreover, the wave is really big and hard, really dangerous for them for sure.
So, how can you enjoy the scenery of Devil's Tear? You may climb up to the top of the hill and enjoy the landscape from there. Sure, it means that the place is not suggested if you want to splash on the beach. Not to forget, capture special moments there. It is particularly when the waves are hitting the cliff.
Second, Nusa Lembongan also has Dream Beach that is more calming and more family-friendly than Devil's Tears. The beach is quite small and it is located in a bay on the island. Moreover, the location tends to be very easy to access from the harbor. That's why; the waves are not really big as well. Slightly, Dream Beach looks like a big pool. You can let your children swim worry without worries.
Third, Nusa Lembongan is also a conservation area for mangrove. The mangrove forest of Nusa lembongan has a width of around 230 acres. Meanwhile, the trees are high enough even up to 6 meters. You can enjoy the beautiful view by reading a traditional boat, starting from the outer area of the beach. The combination of green mangrove and blue water is incredible. Moreover, the water itself is crystal clear, enabling you to see the bottom.
Fourth, Bali and other islands around are indeed more popular for the beaches. But sure, beaches are not the only tourist destinations if you are coming to this area. Even Nusa Lembongan has an underground cave namely Goa Gala Gala. The goa was not made by natural phenomena just like other caves. Yes, it is made by a human.
A "dalang" or a puppeteer from Bali, the late Mangku Byasa was inspired by the story of Pandawa Family from Mahabharata Epos. In the story, Pandawa was lost from Korawa and they were punished to live in a jungle for more than 12 years. To protect themselves, Pandawa created an underground cave.
Fifth, there is Mushroom Bay, a beach with stunning underwater landscapes. The access is also very easy. You can even directly enter the beach from Bali by riding a fast boat. there are many interesting activities to do in Mushroom Bay. They are starting from only walking around to doing water sports. Mushroom Bay is one of the most popular spots in Nusa Lembongan as it is used also as a harbor.
Attractions above are not the only place to visit when you are in Nusa Lembongan. Sure, you have many more options. It even seems not enough to only spend a day on the island. You may need two days or more.
Activities in Nusa Lembongan
After reading explanations about Nusa Lembongan's attractions above, you must be able to predict what activities to do on the island. Sure, you can see beautiful landscapes and capture them to be uploaded on your social media. Besides, many more interesting activities are possible to do in Nusa Lembongan. What are they?
Most of the foreign tourists who come to Nusa Lembongan take a chance for surfing. Yes, some beaches in Nusa Lembongan are ideal for surfing seeing from the wave types and the land's structures. Meanwhile, they also love to dive or snorkel here. As it has been mentioned above, some beaches are blessed by the stunning underwater landscape. So, do you want to enjoy it also?
How to Get Nusa Lembongan from Bali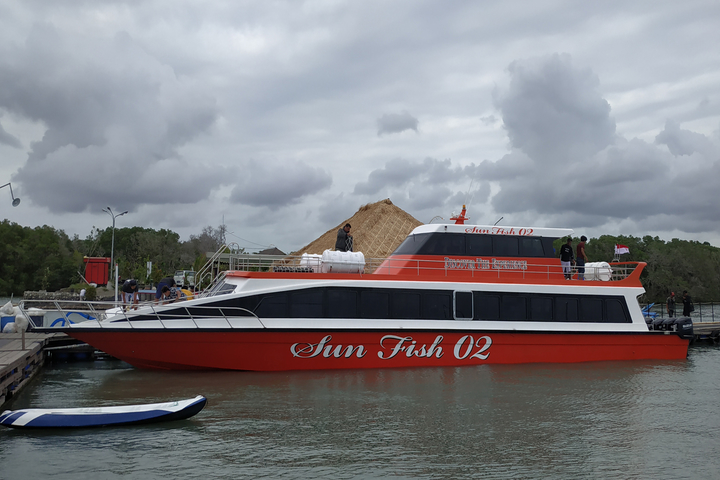 Although Nusa Lembongan is located not too far from Bali, there is no bridge that connects them. Meanwhile, the island also doesn't have an airport that enables you to get there by flight. Well, even if you can enter the island using a helicopter, it is basically not a common transportation device to use.
So, the only solution and access are by using boats while crossing Badung Strait. There are many options of boats and ships to use to access Nusa Lembongan, they are traditional boats, fastboat, and cruise.
If you are choosing a traditional boat, the price is indeed very low. However, it takes a long time to enter the island. Moreover, there are not many safety features installed in the boat. as information, a traditional boat is commonly used by fishermen to do their jobs. For you don't have many experiences of riding it, it can be not comfortable at all.
The second option is riding a fast boat. The fast boat is often considered the most ideal transportation device from Bali to other islands around. The price is not really expensive. However, you can still enjoy a more comfortable voyage mainly compared to riding a traditional boat. Moreover, it takes not too much time to reach Nusa Lembongan from Bali. It is only around 30-45 minutes.
The last one, there is a cruise. This is the most interesting and prestigious water transportation device for sure. But sure, you need to spend more money to buy the ticket. Besides, the cruise is commonly not only taking you to one island but also other the two islands around. There is a special package for the cruise you can book since the beginning.
Based on the explanations above, the next points on this page will be focused on the use of a fast boat to Nusa Lembongan.
Harbors or Departing Spots from Bali to Nusa Lembongan
There are some spots in Bali where you can get fast boats to Nusa Lembongan. The most popular ones are, of course, Benoa and Sanur Harbors. Besides, there are some other harbors you can visit to enter Nusa Lembongan. So, here they are.
Sanur Beach
Sanur is known as a popular beach with many local and foreign tourists to visit. However, do you know that this beach is also known for the harbor? Yes, particularly if you are departing to Nusa Lembongan from the southern area of Bali, Sanur Harbor is the most recommended one.
Since the fast boats in Sanur are not intended to Nusa Lembongan only, make sure to ask well the destination of the boat. Besides, you can also look for the schedule first before starting to make a trip. Interestingly, schedules of fast boats departing from Sanur Beach can be accessed online. The tickets can even be booked long before the D-day. Make sure that the schedule is not changed anyway.
Benoa Harbor
The second location to make a trip to Nusa Lembongan is Benoa Harbor. As information, Benoa Harbor and Tanjung Benoa are two different places. In Benoa Harbor, you can see some agencies or companies that provide various fast boats. Sure, if you want to enjoy a trip with a cruise, you can book it from this area also.
Similar to Sanur Beach, not all the fast boats docked in this harbor are going to Nusa Lembongan. Some of them even have a route to Lombok or Gili Trawangan. So, be careful and make sure to avoid accidental things like entering a wrong boat.
Pemelisan Harbor
Initially, Pemelisan is only a place to dock boats but it is still under the harbor category. So, how can it be a harbor nowadays? Sure, it is because there are many tourists who ride boats starting from this place. They can even depart to Nusa Lembongan faster from Pemelisan.
Seeing this, the local government then turned this location into an official harbor. Moreover, the number of tourists who come there are getting more and more. Sure, further regulations are needed.
Interestingly, it looks like the local government indeed put many efforts to turn it into a harbor. Different from other harbors in Bali that still look traditional in many ways, Pemelisan Harbor tends to look more modern. You will not enter the boat in wet anyway. You will still be clean and dry.
Harbors in Nusa Lembongan
Not only Bali, Nusa Lembongan also has provided some harbors as spots for the boats to arrive. Sure, the number is still a few. There are only 2 harbors that are known to locate in Nusa Lembongan. Meanwhile, all of them are still categorized as traditional harbors. What are they?
Jungut Batu
Jungut Batu is the main and the biggest harbor in Nusa Lembongan. It is also known as the final destinations for all boats, ships, and even cruises with Nusa Lembongan as the main destinations. Based on this fact, it is reasonable if the location is quite far from Bali and even some attractions in Nusa Lembongan itself.
Mushroom Bay
Mushroom Bay is originally a beach for a tourist destination. It is even known as the main and the most popular beach in Nusa Lembongan. For so many people who visit this place, the local government then turned some parts of this beach into a harbor. Moreover, the condition of the beach is considered ideal for a harbor. So, you can see many fast boats and speed boats to dock in this beach. The tourists also prefer using this harbor as the destination to Jungut Batu.
Fast Boats from Bali to Nusa Lembongan
Fastboat are the most favorite boats and chosen by tourists to go to Nusa Lembongan. Of course, it is considered faster and more comfortable than other boats and ships. Sure, even the prices are still friendly enough. As information, a total duration to conduct a trip from Bali to Nusa Lembongan with a fast boat is approximately 25 minutes. It is with an assumption that the boat is arriving at Mushroom Bay.
Many agencies provide this transportation device to Nusa Lembongan. But out of them, there are 4 agencies that are considered the most trusted and recommended. It is seen from reviews and ratings given by customers. They are D'Camel Fast Ferry, The Tanis Express, Tamarind Express, and Sri Rejeki Fast Boat.
Schedules of Fast Boats from Bali to Nusa Lembongan
Each agency must release general schedules for its boats. However, the schedules can be changed for some factors. First, it can be because of the number of passengers is too few. Therefore, it seems useless and not effective to conduct the voyage. Second, the most common reason is due to the bad weather. Sometimes, the weather is predicted to be really bad with hard rain, big waves, or even storm. Sure, it is really dangerous to cross the strait in such a condition.
But as references, the general schedules of fastboat to Nusa Lembongan from bali are as follows. D'camel Fast Ferry conducts a trip 3 times a day. Departures from Sanur are at 09.30 am, 14.00 pm, and 17.00 pm. Meanwhile, departures from Lembongan are at 08.30 am, 12.30 am, and 16.00 pm.
Second, there is Tanis Express fastboat to nusa lembongan that makes a trip 4times a day. Departures from Sanur are 08.15 am, 09.00 am, 12.00 am, and 15.30 pm. Meanwhile, departures from Lembongan are at 07.00 am, 10.00 am, 14.30 pm, and 16.45 pm.
Similar to D'camel, Tamarind express conducts voyages 3 times a day. It is departed from Sanur at 08.30 am, 10.30 am, and 15.00 pm. Besides, the boats are also departed from Lembongan at 09.30 am, 14.00 pm, and 16.00 pm.
To know more about the schedules, you can directly contact the agencies. Besides, they commonly have their official websites where the schedules are presented. It is important to know whether there are changes or not before you are starting to go to the harbor. Well, if you choose a fast boat that is in a package with your trip accommodation, it is getting easier for sure.
Ticket Prices from Bali to Nusa Lembongan
The details of ticket prices can be seen in Bali your agency official websites or some trip applications. During holiday seasons, it is difficult to get tickets for only a few days before departure. Therefore it is recommended to book it long before it. Even two or three months before D-day are getting better.
The ticket prices are also commonly in a package with other accommodations. For example, it is land transportation. This way, not only the price that is getting cheaper but you can also find your trip to Nusa Lembongan fastboat more practical.
The approximate ticket prices fastboat to nusa lembongan are as follows. For a domestic passenger, the price is around IDR 90,000 in D'Camel Fast Ferry. Meanwhile, if you are a foreigner, it is IDR 125,000. Meanwhile, for Tanis Express, the cost for a domestic passenger is IDR 90,000 and for a foreigner, it is IDR 125,000 per person.
If you are interested to use Tamarind Express, the prices are as follows. For a domestic passenger, it is IDR 120,000. Meanwhile, for a foreign passenger, it is IDR 125.000. If you buy the tickets for return at once, the prices are getting cheaper anyway. The prices of fastboat to Nusa Lembongan can also be more expensive during holiday seasons