Are you looking for a boat from Bali to Nusa Penida? This island indeed has such an exotic natural beauty. The 3 Nusa Islands are indeed like magnets to tourists. There are many things to do in Nusa Lembongan, Nusa Ceningan, and of course, Nusa Penida. To get to Nusa Penida sea transportation is the main route used to get to Nusa Penida.
Because on this island there is no airport so that the sea route must be chosen by tourists. For tourists who are seasick, they must be afraid to choose a holiday in Nusa Penida, but don't worry about using a fast boat you will not linger in the ocean.
Nusa Penida Port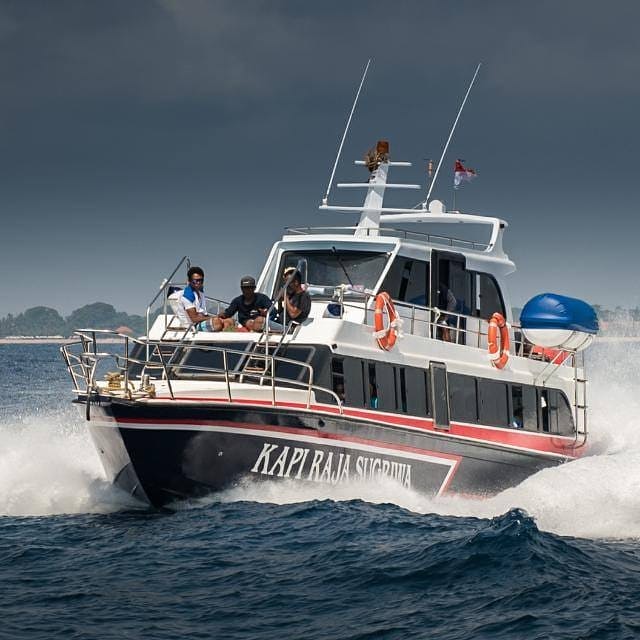 Friend traveler must also understand that every fast boat sanur ticketing company to Nusa Penida has its own dock in Nusa Penida. At least I understand there are 4 different ports / ports for each fast boat company from Sanur to Nusa Penida. 4 of these ports:
Port of Toya Pakeh (Crown Fast Boat Cruises)
Seblanga Pier br. Nyuh (Maruti Express Boat)
Pier br. Nyuh (Gogun Express, Angle of billabong, Dwi Manunggal)
Sampalan & Mentigi Pier (Mola-mola, Idola and Caspla fast boat)
Fast and Safe Fast Boat from Bali to Nusa Penida
1. Mola Mola Express
Mola Mola Express Fast Boat will deliver you with only in approximately 30 minutes.
From Sanur to Nusa Penida
From Nusa Penida to Sanur
For the price of Mola Mola Express One Way Trip = IDR 125,000 / person
2. Ganges Express Fast Boat
Fast Boat with a crossing from Kusambe, Klungkung, namely Gangga Express Fast Boat. This Fastboat has been operating from 2015 and already has 3 Gangga Express fast boat units with passenger capacity between 50 seats to 70 seats.
Schedule from Sanur
07:00
07:30
09:00
11:45
14:00
16:30
Schedule from Penida | 7:00 a.m., 7:30 a.m., 8:45 a.m., 1:00 p.m., 3:30 p.m. & 16:30 p.m.
3. Caspla Fast Boat
Caspla Fast Boat has 4 ships that have been operating for 6 years. This fastboat has a capacity of 45 seast. Each passenger is provided with a life jacket and Caspla Fast Boat has a compass and GPS radio.
Schedule from Sanur
Schedule from Penida
7:30 a.m
09:00 a.m.
15:30 PM
You a lot of options when it comes to sea transportation towards Nusa Penida. However, you have to make sure that everything is suitable for your time and of course, budget. In that way, you can get the best boat from Bali to Nusa Penida